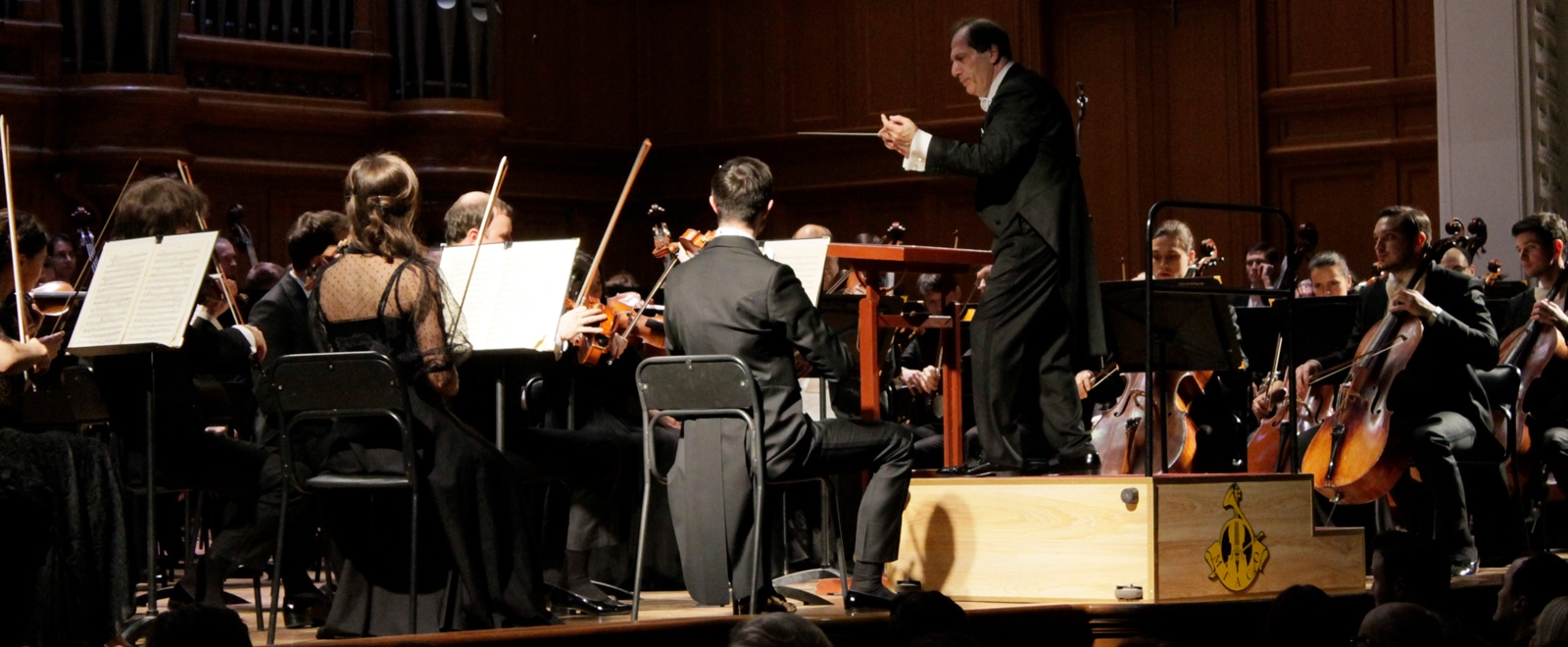 "The MSSO might well be the world's least-heralded great orchestra…The bass players were bruisers who displayed such angry –- if extraordinarily skillful –- ferocity that had their instruments been loaded with live ammunition, not I nor anyone else would now be around to report back on this concert…The concert began with Tchaikovsky's normally touristy showpiece, "Capriccio Italien." This time it meant something. Kogan ripped off Tchaikovsky's false face, leaving behind searing, fraught music. The intensity was a shock. Even Bruch's Violin Concerto became something far more than a vehicle for all-purpose romantic gushing. Koh, who has always impressed me the most in modern music, here gave a throbbing reading that brought to mind the passionate, Russian fiddling of real personality…With these revelatory Russians, a free seismic test is part of the bargain."
Los Angeles Times
"The orchestra provided a sensitive accompaniment to the Prokofiev concerto, though the performance was all about the pianist. Denk's full piano tone was apparent from the opening bars. The piano part became progressively more complex as it went along, yet Denk made it look easy. He was clearly in complete control of the tone and the dynamics of the piano. The cadenza was so elaborate that was hard to believe that it was just one player. If the first movement was defined by grand sweeps, the second featured boundless energy; in fact, the piano appeared never to stop. The intermezzo was like a sardonic march for the dead, propelled by the lower winds. The finale opened with a tight unison between the piano and the orchestra. The coordination between the piano and the orchestra was especially impressive here. The long cadenza gave the impression of a complex chorale elaboration. It was a marvelous performance of a very exciting piece…

The audience was on its feet before the final note and was rewarded with two encores, both by Fritz Kreisler: Marche miniature Viennoise and Syncopation. Many fine orchestras come to the stage of the Kravis Center. Few, however, combine impeccable playing with satisfying programming, as does the Moscow State Symphony Orchestra. We were uplifted by the performance, and look forward to the orchestra's return."
Palm Beach Daily News
"The Moscow State Symphony Orchestra performed at Proctors on a chilly Thursday night, and under the tightly controlled direction of conductor Pavel Kogan, it sounded as if it was playing in its own Great Hall and not in an old Vaudeville theater. The balance of the different sections of the orchestra was impressive, with the winds just right, neither too subdued nor overpowering, so that you were able to hear melodies that sometimes get lost in the shuffle. The strings had a wonderful, lush sound, but weren't overpowering. And dynamically, the orchestra navigated the softest of passages to letting it all out, all while staying balanced… the second movement…showcased the woodwinds to great effect, from the opening modal melody played by the horns, with careful passing of the melody from one wind instrument to another and using deftly shaped dynamics, to the soft modal ending. The piece ended with a triumphant flourish to an enthusiastic audience."
Times Union
"The opening Capriccio Italien by Tchaikovsky was incredible. The traditional power of late Romantic Period Russian classical music and Tchaikovsky's signature lighthearted woodwind arrangements combined for an enjoyable, uplifting experience that brought tears to many eyes. Ok, maybe that was just me, but judging by the response from the audience, I was not the only one who enjoyed it. The second piece, Piano Concerto in A minor by Grieg was darker, but no less impressive. The second movement, the Adagio, was beautiful. Listening to it feels like floating on a cloud. American pianist, Jeremy Denk, joined the orchestra for the concerto and performed with passion and gusto…the level of talent in the orchestra was utterly astonishing…The audience went crazy with thunderous applause, whistles and cheers of "Bravo!", and a standing ovation after each piece. As a reward for our enthusiasm, we were treated to three short encore performances."
Louisville.com
The MSSO was founded in 1943 by the Kremlin and is one of the oldest symphony orchestras in Russia.
Leo Steinberg, the Peoples Artist of USSR and conductor of the Bolshoi Theatre, became the MSSO first Chief Conductor, a post he held until his death in 1945. He was succeeded by a series of distinguished Soviet musical giants that has included Nicolay Anosov (1945 – 1950), Leo Ginsburg (1950 – 1954), Mikhail Terian (1954 – 1960), and Veronica Dudarova (1960 – 1989). Owing to the collaboration with such figures the orchestra became one of most prominent national symphonic ensembles, but initially was best known for its performances of Russian and Soviet classical music, involving many premieres of Myaskovsky, Prokofiev, Shostakovich, Glier.
The Moscow State Symphony Orchestra became renowned around the globe under the leadership of Pavel Kogan. In 1989 he was engaged as Music Director and Chief Conductor and immediately enriched the orchestra with European and American classical repertoire.
One highlight in the history of the MSSO has been to present the cycles of complete symphonic works from leading composers: Brahms, Beethoven, Schubert, Schumann, R. Strauss, Mendelssohn, Mahler, Bruckner, Sibelius, Dvorak, Tchaikovsky, Glazunov, Rachmaninov, Prokofiev, Shostakovich, Scriabin, Berlioz, Debussy and Ravel. The orchestra's wide-ranging programs combine great orchestral, operatic, and choral classics with equally significant music of the 21st century, including many forgotten or neglected works.
The MSSO plays some 100 concerts annually. Along with the series in the Great Hall of the Moscow Conservatory and in Tchaikovsky Concert Hall, the Moscow State Symphony Orchestra performs in the Great Hall of the Saint-Petersburg D.D. Shostakovich Philharmonic Society and on the stages of many other Russian cities. The MSSO tours regularly overseas including the USA, United Kingdom, Japan, Spain, Austria, Italy, Germany, France, South Korea, Australia, China and Switzerland.
The Moscow State Symphony Orchestra also has a long and distinguished recording history with studio and live recordings, television and radio broadcasts. In 1990 the "Pioneer" made a live recording of Tchaikovsky' piano and violin concertos, performed by the MSSO and Maestro Kogan (soloists – Aleksey Sultanov, Maxim Vengerov). In the early 1990s Russian television released the documentary "Travels with the orchestra" about the MSSO and Pavel Kogan tour in Europe and Saint-Petersburg. Their Rachmaninov cycle, released by "Alto", which recorded all the symphonies and symphonic dances, has become a chart-topping album.
The MSSO has a proud history of collaborating with eminent conductors and soloists including Evgeny Svetlanov, Kirill Kondrashin, Aleksandr Orlov, Natan Rahlin, Samuil Samosud, Valery Gergiev, David Oistrakh, Emil Gilels, Leonid Kogan, Vladimir Sofronitsky, Sergei Lemeshev, Ivan Kozlovsky, Svyatoslav Knushevitskyi, Sviatoslav Richter, Mstislav Rostropovich and Daniil Shafran.
The orchestra's partnership with Pavel Kogan has earned the orchestra an enviable reputation for high standards of artistic excellence, imaginative programming and community engagement, having a broad and loyal following around the world.
FEBRUARY 2017