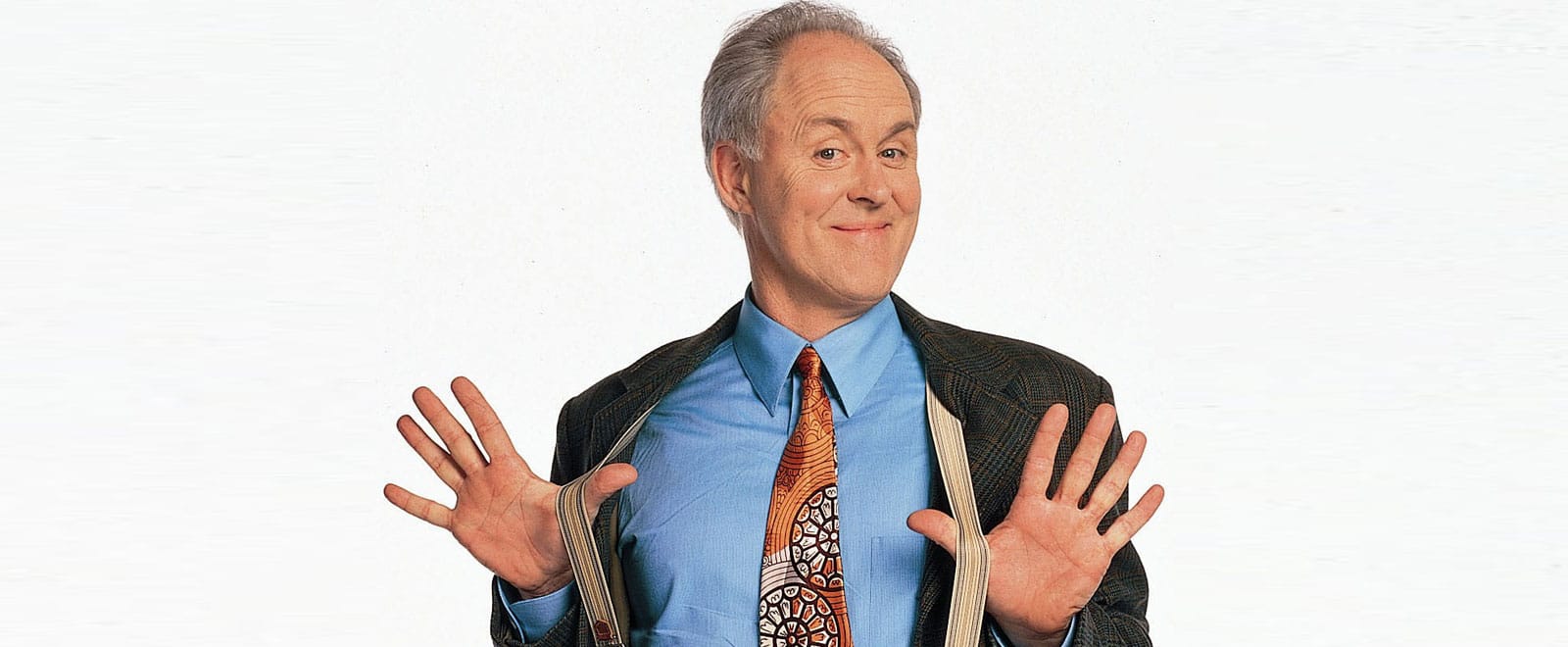 John Lithgow's roots are in the theater. In 1973, he won a Tony Award three weeks after his Broadway debut, in David Storey's "The Changing Room." Since then he has appeared on Broadway twenty more times, earning five more Tony nominations, another Tony, four Drama Desk Awards, and induction into the Theatre Hall of Fame. His Broadway performances have included major roles in "My Fat Friend," "Trelawney of the 'Wells,'" "Comedians," "Anna Christie," "Bedroom Farce," "Beyond Therapy," "M. Butterfly," "The Front Page," "Retreat from Moscow," "All My Sons," "The Columnist," and the musicals "Sweet Smell of Success" (his second Tony), and "Dirty Rotten Scoundrels."
Lithgow has acted in England with both the Royal Shakespeare Company and the National Theatre, playing Malvolio with the first and the title role in "The Magistrate" with the second. Lithgow returned to the New York stage in 2014, first as King Lear for The Public's Shakespeare in the Park, and then on Broadway in Edward Albee's "A Delicate Balance." In April 2018, Lithgow appeared as Voltaire/Dr. Pangloss in the Carnegie Hall Presentation of Leonard Bernstein's Candide.
In 2008, Lithgow devised the one-man show "John Lithgow: Stories by Heart" for The Lincoln Center Theater Company and performed it in 35 cities around the country over the next 10 years, arriving on Broadway this past year for a warmly received three-month engagement at the Roundabout Theatre. Lithgow recently returned to Broadway alongside Laurie Metcalf in "Hillary and Clinton," a new play by Lucas Hnath, which premiered in April 2019.
In the early 1980's, Lithgow began to make a major mark in film. At that time, he was nominated for Oscars in back-to-back years, for "The World According to Garp" and "Terms of Endearment."  In the years before and after, he has appeared in over forty-five films. Notable among them have been "All That Jazz," "Blow Out," "Twilight Zone: the Movie," "Footloose," "2010," "Buckaroo Banzai," "Harry and the Hendersons," "Memphis Belle," "Raising Cain," "Ricochet," "Cliffhanger," "Orange County," "Shrek," "Kinsey," "Dreamgirls," "Rise of the Planet of the Apes," "The Campaign," "This is 40," "Interstellar," "Love is Strange," "The Accountant," "Miss Sloane," "Beatriz at Dinner," and "Daddy's Home 2."
In 2019 so far, Lithgow could be seen in Mindy Kaling's comedy "Late Night" alongside Kaling, Emma Thompson and Hugh Dancy, "The Tomorrow Man" opposite Blythe Danner, as well as Paramount's remake of Stephen King's "Pet Sematary." Lithgow will play Roger Ailes in the upcoming untitled Charles Randolph project about the Fox News culture, alongside Charlize Theron, Nicole Kidman, Margot Robbie, and Allison Janney.
Lithgow has been nominated for twelve Emmy Awards for his work on television.  He has won six: one for an episode of "Amazing Stories," one for his twelve-episode arc on Showtime's "Dexter," one for his supporting role as Winston Churchill in Netflix's original series, "The Crown," and three for his work on the hit NBC comedy series "3rd Rock from the Sun," as the loopy character of the alien High Commander, Dick Solomon. During the show's six-year run, Lithgow also won a Golden Globe, two SAG Awards, The American Comedy Award, and, when it finally went off the air, a Star on the Hollywood Walk of Fame. Additionally, his diabolical turn as the Trinity Killer in the aforementioned "Dexter" won him his second Golden Globe.
Most recently, Lithgow won his latest Emmy for his transformative role as Winston Churchill in "The Crown." Both the series and Lithgow have received numerous accolades. In addition to his Emmy, Lithgow received a Golden Globe nomination for Outstanding Supporting Actor in the series, won a Critics' Choice Award for Best Supporting Actor, and won a SAG Award for Outstanding Performance by a Male Actor.
In 2017, Lithgow starred in the new NBC comedy series, "Trial & Error," playing an eccentric poetry professor accused of murdering his wife.
Since 1998 he has written nine New York Times best-selling children's picture books, most recently "Never Play Music Right Next to the Zoo."  He has performed concerts for children with major American orchestras and has released three kids' albums, "Singin' in the Bathtub," "Farkle & Friends," and the Grammy-nominated "The Sunny Side of the Street."  Lithgow has been honored with the New Victory Theater Arts Award for his work "bringing kids to the arts and the arts to the kids."
In 2011, HarperCollins published Lithgow's memoir, "Drama: An Actor's Education," presenting his life and career up to the age of 35.  The book vividly portrays the worlds of New York, London, and American regional theater in the 1970s, and relives his collaborations with renowned performers and directors of that era.
John Lithgow was born in Rochester, New York, but grew up in Ohio. He graduated from high school in Princeton, New Jersey, attended Harvard College, and studied at the London Academy of Music & Dramatic Art on a Fulbright Grant. Lithgow has been honored with the Fulbright Lifetime Achievement Medal, induction into The American Academy of Arts and Sciences, and an Honorary Doctorate of Humane Letters from Harvard.  On that last occasion, he became the first actor to ever deliver Harvard's Commencement Address.
Lithgow has three grown children, two grandchildren, and lives in Los Angeles and New York.  He has been married for over thirty years to Mary Yeager, an Emerita Professor.
AUGUST 2019