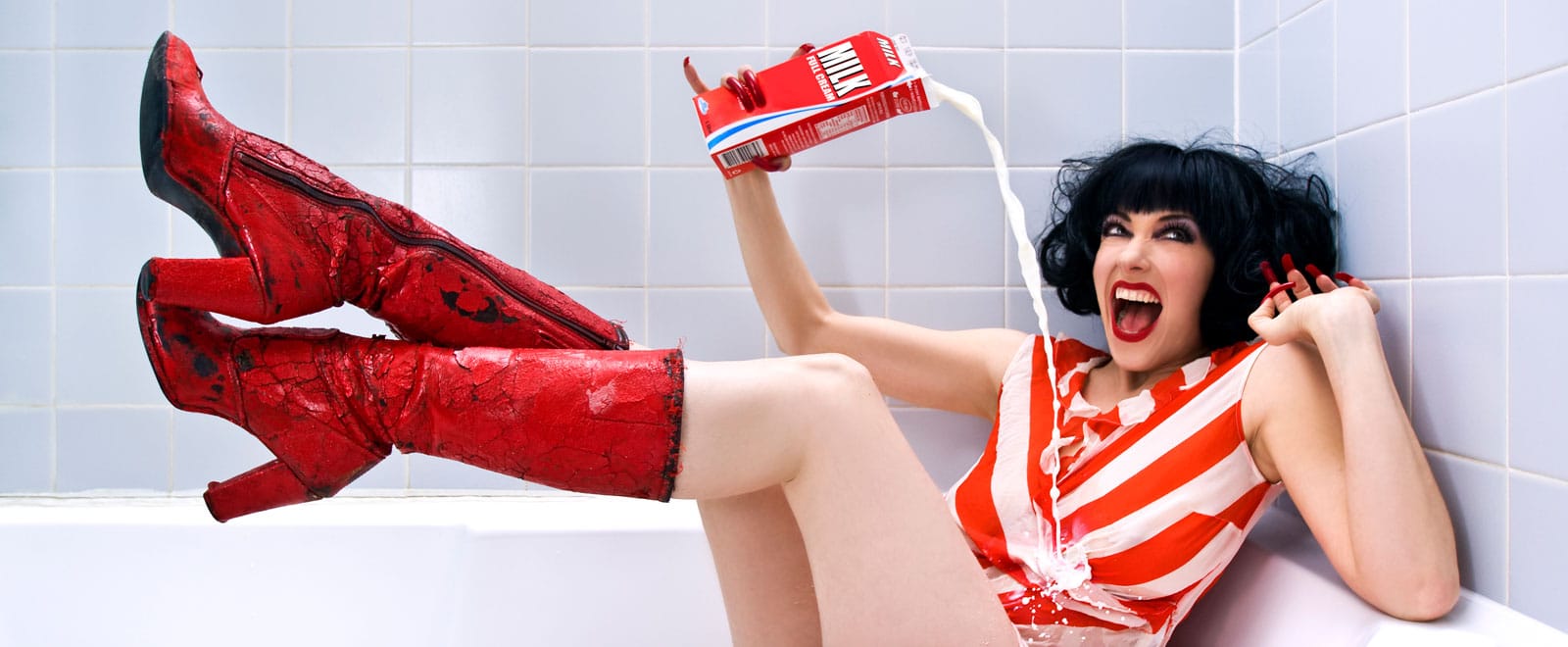 "There are not many women who can stun an audience into pin-drop silence with an exquisitely delivered torch song one moment and rock the rafters with laughter the next."
The Evening Standard (UK)
"The chanteuse brilliantly embodies a new kind of performance art."
The New Yorker
"There is, in fact, nothing that this woman cannot do. Her voice is astonishing, with a Winehousian vibrancy to its contralto. She is a fine and nimble dancer. She is very funny. And, when she collects together the wildly diverse threads of her show to remind us of what it is really about, "the story of the Little Match Girl, who died of cold and hunger and whose counterparts still live amongst us", she is remarkably moving."
The Telegraph UK
"The voice alone is glorious in its range and texture. But combine it with carefully chosen songs, superb comic timing, improvisational wit, and some engaging audience participation, so cannily conducted that you suspect a degree in psychology, and you have an evening that demonstrates that Meow Meow really is the cat's whiskers."
The Guardian
"…she's an entertainer of force and finesse and this is a cracking show, bittersweet in places, magical in others."
The Stage
"I could make this easy, and short. How about a two-word review? 'Just go.' Honestly, in over four decades of theatre- and concert-going I can count on one hand the number of evenings that have moved, excited, entranced, informed and thrilled me even half as much as this wonderfully unique, quasi-cabaret at the Barbican."
The Jewish Chronicle
"There was a point about midway through Apocalypse Meow: Crisis Is Born when I realised, almost with a jolt, how lucky I was to be there. How lucky I am to be alive at this time to watch Meow Meow – "a showgirl", as she tells us many times, "of gargantuan proportions" – at the height of her powers, performing her bittersweet enchantments live on stage."
The Saturday Paper
Post-post-modern diva Meow Meow has hypnotized, inspired, and terrified audiences globally with unique creations and sell-out seasons from New York's Lincoln Center and Berlin's Bar Jeder Vernunft to London's West End and the Sydney Opera House.
Highlights of the 2019-20 season include the role of Griddlebone in the film adaptation of Sir Andrew Lloyd Webber's stage musical Cats, directed by Tom Hooper; performances in the Brooklyn Academy of Music's 2019 Next Wave Festival, and with the Seattle Symphony on New Year's Eve; two U.S. concert tours; an international concert tour with Pink Martini; performances with Pina Bausch Company in Germany and Paris; and the beginning of a multi-year collaboration with the Boston Symphony Orchestra's Tanglewood Learning Institute.
Named one of the "Top Performers of the Year" by The New Yorker, the spectacular crowd-surfing tragi-comedienne has been called "sensational" (The Times, UK), a "diva of the highest order" (New York Post), "The Queen of Chanson" (Berliner Zeitung), and "a phenomenon" by the Australian press. Her award-winning solo works have been curated by David Bowie, Pina Bausch, Mikhail Baryshnikov and numerous international arts festivals.
As well as being a prolific original music, theatre and dance-theatre creator, Meow Meow specializes in the Weimar repertoire and French chanson. She has played Jenny in Weill's Threepenny Opera in Paris and London with the London Philharmonic and Anna 1 and 2 in Weill's Seven Deadly Sins with Orchestra Victoria, as well as numerous Weimar works with Sydney Symphony Orchestra, San Francisco Symphony, Oregon Symphony, the Australian Chamber Orchestra and the Bergen Philharmonic. Meow Meow has performed Schoenberg Ensemble founder Reinbert de Leeuw's homage to Schubert and Schumann, Wunderschön, throughout Australia and in the UK with the Hebrides Ensemble.
Highlights of recent seasons include concerts at Lincoln Center's American Songbook Series, the Kennedy Center in Washington, DC, Davies Symphony Hall in San Francisco, and performances of William Walton's Façade and Seven Deadly Sins conducted by Vladimir Jurowski at the Berlin Konzerthaus; Miss Adelaide in a concert version of Guys and Dolls at London's Royal Albert Hall; performances of Meow Meow's Pandemonium with the Sydney Symphony at the Sydney Opera House in 2018; and an extended run of concerts at the Barbican with Barry Humphries and the Aurora Orchestra. That program, a highly-acclaimed return season, resurrected lost and banned works from the Weimar period. Meow Meow and Humphries premiered this program in the major concert halls of Australia including the Sydney Opera House, and then toured it to Tanglewood Music Festival, London's Cadogan Hall, and the Edinburgh International Festival. Recent London appearances include her Pandemonium and More Pandemonium concerts at Royal Festival Hall with the London Philharmonic and a sell-out season of her Christmas creation Apocalypse Meow at the Sam Wanamaker Playhouse at Shakespeare's Globe in 2017.
Meow Meow had an opera written for her by Richard Mills and Victorian Opera, and has appeared on the West End in Kneehigh and Michel Legrand's The Umbrellas of Cherbourg. She played Titania in Emma Rice's A Midsummer Night's Dream at Shakespeare's Globe; Pegleg in Tom Waits' musical fable The Black Rider with Victorian Opera and Malthouse Theatre, directed by Matt Lutton; and Édith Piaf in Cocteau's Le Bel indifferent, directed by Ted Huffman for the Greenwich Music Festival.
In the United States, Meow Meow was commissioned for David Bowie's Highline Festival by director John Cameron Mitchell. Her piece An Audience with Meow Meow premiered at Berkeley Rep with direction by Emma Rice and was recreated for Boston Arts Emerson, directed by Leigh Silverman and designed by Andrea Lauer. Meow Meow has performed with Pink Martini at the Berlin Philharmonie, Royal Albert Hall, Opera Garnier Monte Carlo, the Hollywood Bowl, and across Europe, Canada, and the United States. She appears frequently in the Bard College Spiegeltent Summer series and has performed in concert with Alan Cumming at The Met Museum, and in Taylor Mac's A 24-Decade History of Popular Music series. Meow Meow performed in the PIAF! Centenary Celebration Concert at Town Hall with the American Pops Orchestra, and toured the United States with punk cabaret outfit Amanda Palmer and the Dresden Dolls. Meow Meow has guested with the La Clique, Club Swizzle, and La Soiree companies globally including at Sydney Opera House, London's Roundhouse, and in New York City.
Meow Meow's original works include Vamp, Beyond Glamour, Feline Intimate, Meow Meow's Little Match Girl, Meow Meow's Little Mermaid, His Master's Choice, Apocalypse Meow, and An Audience with Meow Meow. These shows have played from Edinburgh International Festival to Berkeley Rep, from the Southbank Centre to the Sydney Festival and Shakespeare's Globe, and from Shanghai to Slovenia, garnering numerous awards including the Edinburgh International Festival Fringe Award, Green Room, and Australian Helpmann Awards.
Meow Meow created Souvenir, an ongoing fantastical song cycle on the history of the Theatre Royal, written with composers Jherek Bischoff and August Von Trapp, for the Brighton Festival, the Theatre Royal Tasmania and Her Majesty's Theatre South Australia. In 2017, she conjured a bespoke creation for Liverpool Culture's Sgt. Pepper at Fifty celebrations involving the city's brass bands, a three-day riot and a requiem in a graveyard. The Graveyard Tour continues with her Sleepless Beauties collaborators—designers and composers Andrea Lauer, Jherek Bischoff, and Jethro Woodward.
Meow Meow's albums with frequent collaborators, composer Iain Grandage and the Wild Dog Orchestra, include Vamp, Songs from a Little Match Girl, and Mermaid (with the Siren Effect Orchestra). Her latest album, Hotel Amour, recorded with Thomas M. Lauderdale of Pink Martini, features duets with Rufus Wainwright, the late Michel Legrand, and The Von Trapps as well as original songs written by Lauderdale and Meow Meow, performed with members of Pink Martini and the Oregon Symphony.
OCTOBER 2019