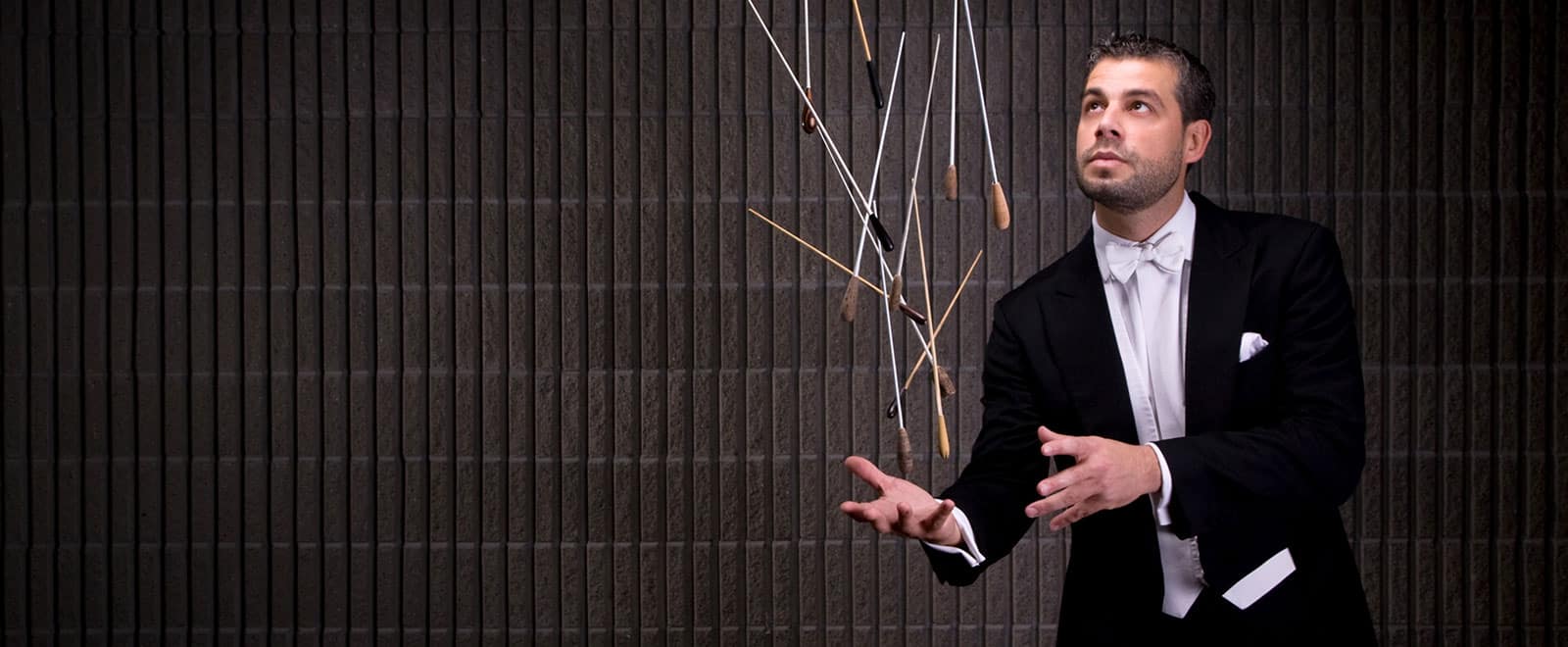 "Conductor Jader Bignamini drew energetic and virtuosic playing from the Santa Fe Opera Orchestra while being attentive to the needs of the singers. With brisk tempi in the lighthearted scenes and slower but idiomatic music making in the tragic last act, he presented a glorious rendition of Puccini's immortal score."
Broadway World
"Conductor Jader Bignamini was the evening's real discovery. A former assistant to Riccardo Chailly at La Scala, Bignamini brought intensity and noble phrasing to the operatic excerpts while anticipating and dovetailing the singers' every breath and turn of phrase. Under his baton, Orchestra Miami sounded twice its size with dynamic playing from all sections. The program's orchestral interludes were not mere fillers, as they often emerge in these type of concerts, but idiomatic vignettes played at white heat. … Bignamini is a major talent with a promising future."
South Florida Classical Review
"Bignamini and the orchestra gave a deftly crafted, beautifully executed performance of Tchaikovsky's Capriccio italien before closing the program by enveloping the audience in the enormous, thrilling, visceral sounds of Respighi's vivid tone poem The Pines of Rome. Conductor and players moved from a sensitive, supportive performance of the Dvorak to compelling, poignant music-making and deft ensemble work in the Tchaikovsky, and a wonderfully evocative performance of Respighi. Bignamini led the players through a colorful, artfully shaped performance of Pines of Rome …."
Milwaukee Journal Sentinel
"Conductor Jader Bignamini was a fine technician, keeping rhythms crisp and the ensemble coordinated. He is one of those stiff-backed conductors who let their arms and face do all the work; the sensitivity and excitement with which the orchestra responded illustrated the communication and cooperation he elicited from the musicians. Indeed, there was a fine sense of rubato in many places that added a rhythmic expressivity …."
San Diego Union Tribune
"Jader Bignamini, making his debut in the Met pit, conducts a sweeping and dramatic reading of the score."
Huffington Post
Jader Bignamini is Music Director of the Detroit Symphony. He leads his first full season of concerts in the 2021-22 season, which includes a tour to Florida in January 2022. Jader continues as Resident Conductor of the Orchestra Sinfonica la Verdi, following his appointment as Assistant Conductor in 2010 by Riccardo Chailly.
Highlights of the 2021-22 season include performances of Gianni Schicchi with the Canadian Opera Company and Rigoletto with Oper Frankurt, as well as concerts with the Houston and New Jersey Symphonies, Residentie Orkest The Hague, and Bern Symphony Orchestra. In Summer 2021, Jader led triumphant performances of Turandot at the Arena di Verona with Anna Netrebko and Yusiv Eyvazov, as well as a staged production of Rossini's Stabat Mater at the Rossini Opera Festival in Pesaro.
Recent highlights include debuts with the Metropolitan Opera, Vienna State Opera and Dutch National Opera conducting Madama Butterfly, Luisa Miller and La Forza del Destino at Oper Frankfurt, Cavalleria rusticana at Michigan Opera Theatre, La bohème at Santa Fe Opera, and La Traviata in Tokyo directed by Sofia Coppola. On the concert stage, he has lead the Dallas and Milwaukee Symphonies, Minnesota Orchestra, Slovenian and Freiburg Philharmonic Orchestras, Staatsphilharmonie Rheinland-Pfalz, and Mannheim National Theater Orchestra.
Jader Bignamini has conducted Manon Lescaut at the Bolshoi, La Traviata at Bayerische Staatsoper, Eugene Onegin at Stadttheater Klagenfurt, Turandot at the Teatro Filarmonica, Il Trovatore at Rome's Teatro dell'Opera, the opening concert of the Orchestra Filarmonica del Teatro Comunale di Bologna conducting Carmina Burana; La Bohème at the Municipal de São Paulo and La Fenice; L'Elisir d'Amore in Ancona; Tosca at the Comunale di Bologna; La Forza del Destino at the Verdi Festival in Parma; La Bohème, Cavalleria Rusticana, and L'Amor Brujo at Teatro Filarmonico di Verona; Aida at Rome's Teatro dell'Opera; Madama Butterfly at La Fenice; engagements with Maggio Musicale in Florence, the Festival della Valle d'Itria in Martina Franca, and the MITO Festival conducting Berlioz' Messe Solennelle. In 2013, Bignamini assisted Riccardo Chailly on concerts of Mahler's Eighth Symphony in Milan. He made his concert debut at La Scala in 2015.
Bignamini was born in Crema and studied at the Piacenza Music Conservatory.
AUGUST 2021