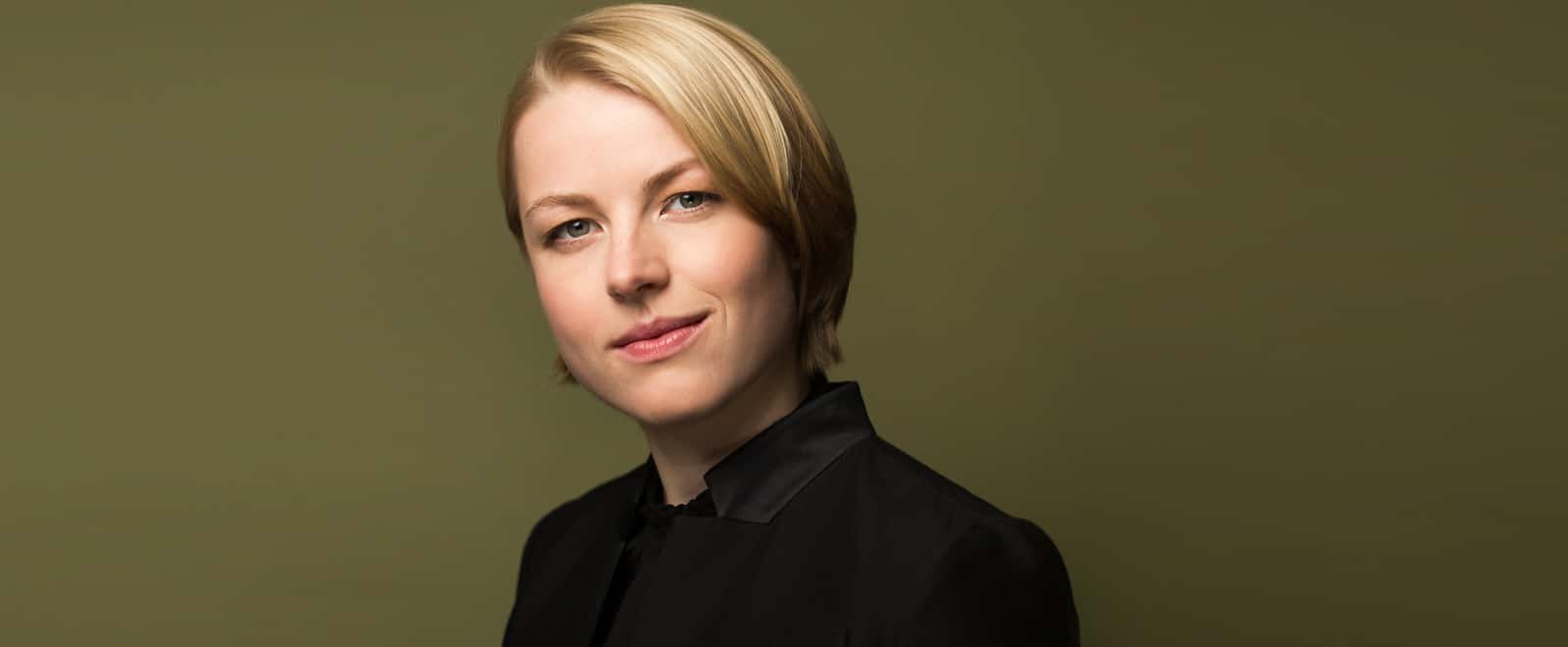 "Reinhardt… is an energetic presence whose cues are unequivocal, and who drew a rich, gleaming and generally powerful sound from the orchestra, which is precisely what the music at hand demands."
Portland Press Herald
"But it was after intermission, in a vibrant, splendidly shaped account of Dvorák's Fifth Symphony, that she truly showed what she could do. In particular, Reinhardt had a powerful success in one of the main challenges with Dvorák — how to retain his distinctively dark, heavy orchestral colors without letting the rhythms bog down. In the two outer movements especially, the textures sounded aptly rich, but Reinhardt's sleek, physical podium manner kept things moving handsomely."
San Francisco Chronicle
"Reinhardt was a joy to watch leading the symphony. Her hands and baton commanded the music with surgical precision. Despite her impassioned accuracy, her face and movements were buoyant and gleeful. She brought a fresh and unique energy to the ensemble. […] The title piece of the concert, Tchaikovsky's "Symphony No. 5 in E Minor" finished the evening's program […] The execution was impeccable. The Omaha Symphony received an immediate standing ovation at the conclusion of a night full of great musical voyages."
Omaha World-Herald
"During a two-year appointment as assistant conductor of the Dallas Symphony Orchestra, from 2016 to 2018, Ruth Reinhardt repeatedly impressed as an incisive musician of real depth. On Friday night, at Bass Performance Hall, she was the Fort Worth Symphony's guest conductor, and again the musical results were most rewarding…"Reinhardt led a smart, thoroughly sympathetic performance, and the orchestra played beautifully" (Stravinsky Danses Concertantes)…Timing, shaping and balancing the music with great care, Reinhardt again got splendid playing from the orchestra" (Sibelius Symphony No. 5)
Dallas Morning News
"The conductor, Ruth Reinhardt, is still in her 20s; the soloist, cellist Sheku Kanneh-Mason, is about a decade behind her, and they both have incandescent talent…Reinhardt proved an adept accompanist in the Tchaikovsky, but the rest of the program made it clear that she also is a conductor with strong ideas of her own…The evening's novelty, "Ciel d'hiver" ("Winter Sky") by Finnish composer Kaija Saariaho, presented an intriguing constellation of sounds that waxed and waned, as delicate pinpoint effects and glissandi grew louder and more complex, finally falling away…Reinhardt made an excellent case for this unusual work. Beethoven's often-heard Symphony No. 1 showed Reinhardt's imagination and originality in a score where you wouldn't think there was much room for new approaches. Light, effervescent and crisp, this reading was fleet but never rushed or hurried; the second movement was gracefully phrased with nicely placed accents, and the third was buoyant and full of charm. Reinhardt had fun with the opening of the fourth and final movement, in which the opening theme is presented with a teasing phrase in the violins — just a few notes at first, then a few more, and finally the launch of the whole theme. The finale, with snappy timpani accents, was full of energy and humor."
The Seattle Times
"The Dallas Symphony Orchestra has had some gifted and skilled assistant conductors conductors, but I'd vote Ruth Reinhardt the best of my 19 years here…As in her ReMix concerts at Moody Performance Hall, she has put together an imaginative program, with clever musical connections that don't immediately suggest themselves. And on Thursday night, she led with clear-headed and sensitive authority…It was Reinhardt, though, who stood out, not by overdoing anything, but by so fastidiously scaling, balancing and shaping the music. This was true throughout the concert: loving attention to detail without any fussiness, never allowing inherent urgency to slacken. The Hindemith and Kodály lacked nothing for flash and flair."
The Dallas Morning News
"The refreshing, young and extremely talented conductor Ruth Reinhardt made an immediate strong impression with a dramatic and nuanced performance of Antonin Dvorak's Othello Overture, Op. 93…The orchestra's musicians proved once again that they are a treasure all on their own in Gabrielle Faure's Pelléas et Mélisande Suite. Reinhardt had her hand in it as well as the musicians, as a whole and in solo roles, were pliant in response with delicious phrasing."
Sarasota Herald-Tribune
Ruth Reinhardt is quickly establishing herself as one of today's most dynamic and nuanced young conductors, building a reputation for her musical intelligence, programmatic imagination, and elegant performances.
In the 2021-22 season, Ms. Reinhardt makes US debuts with the symphony orchestras of Naples, Portland, Milwaukee, and San Francisco, culminating in summer festival debuts at Blossom Music Center and Wolf Trap. In Europe, debuts include DSO-Berlin, RTÉ Dublin, Orchestre National de Radio France, MDR Leipzig Radio Symphony, and Konzerthausorchester Berlin. She will also return to Seattle Symphony, Indianapolis Symphony, North Carolina Symphony, San Diego Symphony, Orquestra Simfónica de Barcelona, and Helsingborg Symphony, among others.
Highlights of Ms. Reinhardt's recent seasons include debuts with the symphony orchestras of Detroit, Baltimore, Houston, San Antonio, Fort Worth, Omaha, Orlando, Portland, Sarasota, and Grand Rapids, as well as the Los Angeles and St. Paul Chamber Orchestras. In Europe, debuts include the Frankfurt Radio Symphony, Tonkünstler Orchestra, Gävle Symphony, Royal Stockholm Philharmonic, Grosses Orchester Graz, and Kristiansand Symphony Orchestra. She also returned to conduct the Cleveland Orchestra, Seattle Symphony, Malmö Symphony, Impuls Festival in Germany, and Dallas Symphony for both a subscription week and their contemporary alternative ReMix series. In the summers of 2018 and 2019, she served as the assistant conductor of the Lucerne Festival Academy Orchestra.
Ruth Reinhardt received her master's degree in conducting from The Juilliard School, where she studied with Alan Gilbert. Born in Saarbrücken, Germany, she began studying violin at an early age and sang in the children's chorus of Saarländisches Staatstheater, Saarbrücken's opera company. She attended Zurich's University of the Arts (Zürcher Hochschule der Künste) to study violin with Rudolf Koelman, and began conducting studies with Constantin Trinks, with additional training under Johannes Schlaefli. She has also participated in conducting master classes with, among others, Bernard Haitink, Michael Tilson Thomas, David Zinman, Paavo Järvi, Neeme Järvi, Marin Alsop, and James Ross. Prior to her appointment in Dallas, Reinhardt was a Dudamel Fellow of the Los Angeles Philharmonic (2017-18), conducting fellow at the Seattle Symphony (2015-16) and Boston Symphony Orchestra's Tanglewood Music Center (2015), and an associate conducting fellow of the Taki Concordia program (2015-17).
A precocious talent, by age 17 she had already composed and conducted an opera, for and performed by the children and youths of her hometown. While studying in Zurich, she also conducted the premieres of two chamber operas for children: Die Kleine Meerjungfrau (The Little Mermaid) by Swiss composer Michal Muggli, and Wassilissa by German composer Dennis Bäsecke. Other opera productions she has conducted include Dvořák's Rusalka and Weber's Der Freischütz for the North Czech Opera Company, and Strauss' Die Fledermaus at the Leipzig University of the Arts.
JANUARY 2022