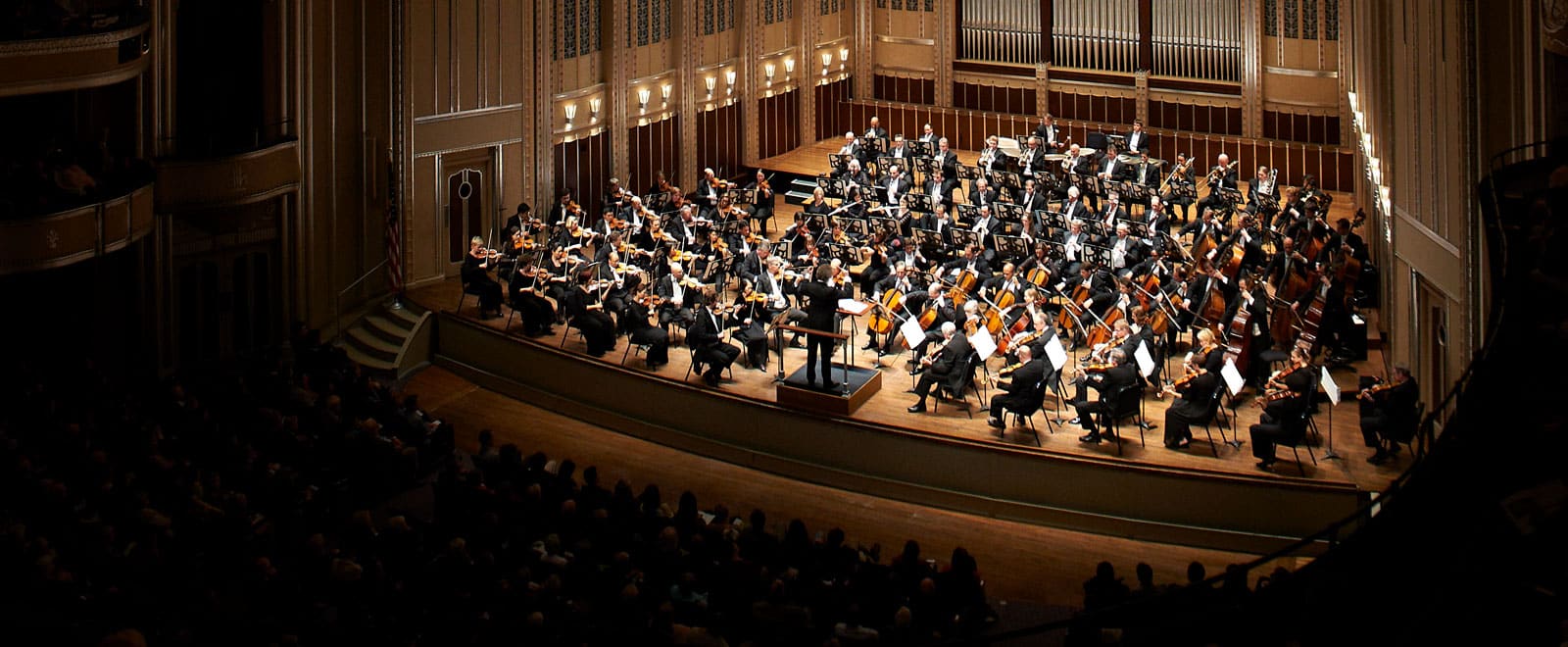 As it celebrates the centennial of its founding in 2018, The Cleveland Orch­estra is undergoing a new transformation. Under the leadership of Franz Welser-Möst, entering his seventeenth year as the ensemble's music director with the 2018-19 season, The Cleveland Orchestra is acknowledged among the world's very best orchestras. With Welser-Möst, the ensemble's musicians, board of directors, staff, volunteers, and hometown are working together on a set of enhanced goals for the 21st century — to continue the Orchestra's legendary command of musical excellence, to renew its focus on fully serving the communities where it performs through concerts, engagement, and music education, to develop the youngest audience of any orchestra, to build on its tradition of community support and financial strength, and to move forward into the Orchestra's next century with an unshakeable commitment to innovation and a fearless pursuit of success.
The Cleveland Orchestra divides its time each year across concert seasons at home in Cleveland's Severance Hall and each summer at Blossom Music Center. Additional portions of the year are devoted to touring and to a series of innovative and intensive performance residencies. These include an annual set of concerts and education programs and partnerships in Miami, Florida, a recurring residency at Vienna's Musikverein, and regular appearances at Switzerland's Lucerne Festival, at New York's Lincoln Center Festival, and at Indiana University.
The Cleveland Orchestra has long been committed to the pursuit of musical excellence in everything that it does. The Orchestra's ongoing collaboration with Welser-Möst is widely-acknow­ledged among the best orchestra-conductor partnerships of today. Performances of standard repertoire and new works are unrivalled at home, in residencies around the globe, on tour across North America and Europe, and through recordings, telecasts, and radio and internet broadcasts. Its longstanding championship of new composers and commissioning of new works helps audiences experience music as a living language that grows and evolves with each new generation. Recent performances with Baroque specialists, recording projects of varying repertoire and in different locations, fruitful re-examinations and juxtapositions of the standard repertoire, and acclaimed collaborations in 20th and 21st century masterworks together enable The Cleveland Orchestra the ability to give musical performances second to none in the world.
Programs for students and community engagement activities have long been part of the Orchestra's commitment to serving Cleveland and surrounding communities, and have more recently been extended to its touring and residencies. All are designed to connect people to music in the concert hall, in classrooms, and in everyday lives. Recent seasons have seen the launch of a unique "At Home" neighborhood residency program, designed to bring the Orchestra and citizens together in new ways.  Additionally, a new Make Music! initiative is being developed, championed by Franz Welser-Möst in advocacy for the benefits of direct participation in making music for people of all ages.
Standing on the shoulders of more than nine decades of presenting quality music education programs, the Orchestra made national and international headlines through the creation of its Center for Future Audiences in 2010. Established with a significant endowment gift from the Maltz Family Foundation, the Center is designed to provide ongoing funding for the Orchestra's continuing work to develop interest in classical music among young people. The flagship "Under 18s Free" program has seen unparalleled success in increasing attendance and interest — with 20% of attendees now comprised of concertgoers aged 25 and under.
The Cleveland Orchestra was among the first American orchestras heard on a regular series of radio broadcasts, and its Severance Hall home was one of the first concert halls in the world built with recording and broadcasting capabilities. Today, Cleveland Orchestra concerts are presented in a variety of formats for a variety of audiences — including popular Friday night concerts (mixing onstage symphonic works with post-concert entertainment), film scores performed live by the Orchestra, collaborations with pop and jazz singers, ballet and opera presentations, and standard repertoire juxtaposed in meaningful contexts with new and older works. Franz Welser-Möst's creative vision has given the Orchestra an unequaled opportunity to explore music as a universal language of communication and understanding.
The Cleveland Orchestra was born in Cleveland, created by a group of visionary citizens who believed in the power of music and aspired to having the best performances of great orchestral music possible anywhere. Generations of Clevelanders have supported this vision and enjoyed the Orchestra's concerts. Hundreds of thousands have learned to love music through its education programs and celebrated important events with its music. While strong ticket sales cover just under half of each season's costs, it is the generosity of thousands each year that drives the Orchestra forward and sustains its extraordinary tradition of excellence onstage, in the classroom, and for the community.
The Cleveland Orchestra was founded in 1918. Over the ensuing decades, the Orch­estra quickly grew from a fine regional organization to being one of the most admired symphony orchestras in the world. Seven music directors have guided and shaped the ensemble's growth and sound: Nikolai Soko­loff, 1918-33; Artur Rodzinski, 1933-43; Erich Leins­dorf, 1943-46; George Szell, 1946-70; Lorin Maazel, 1972-82; Christoph von Dohnányi, 1984-2002; and Franz Welser-Möst, since 2002.
The opening in 1931 of Severance Hall as the Orchestra's permanent home, with later acoustic refinements and remodeling of the hall under Szell's guidance, brought a special pride to the ensemble and its hometown, as well as providing an enviable and intimate acoustic environment in which to develop and refine the Orch­estra's artistry. Touring performances throughout the United States and, beginning in 1957, to Europe and across the globe have confirmed Cleveland's place among the world's top orchestras. Year-round performances became a reality in 1968 with the opening of Blossom Music Center, one of the most beautiful and acoustically admired outdoor concert facilities in the United States.
Today, concert performances, community presentations, touring residencies, broadcasts, and recordings provide access to the Orchestra's acclaimed artistry to an enthusiastic, generous, and broad constituency around the world.