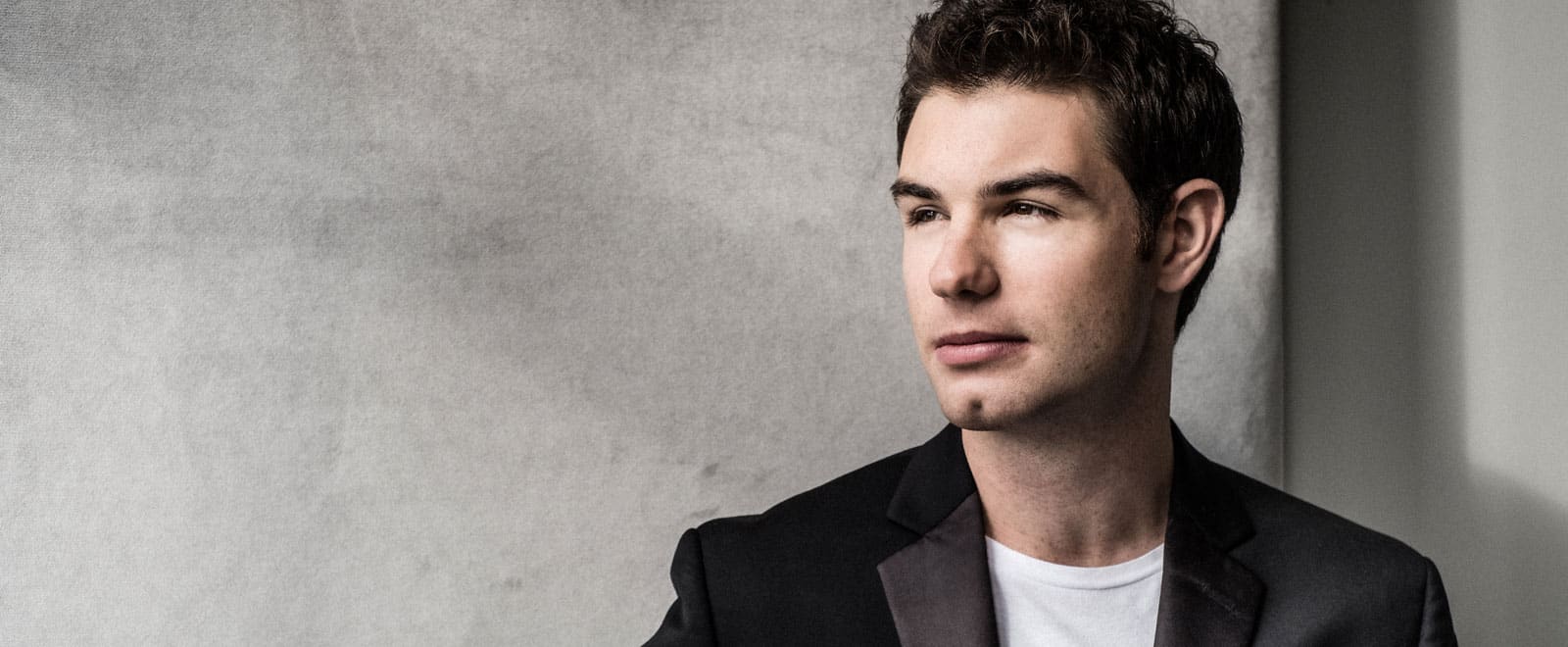 "Fearless playing, with recordings to match; this pianist is destined for great things."
Music Web International
"Mr. Petersen had technique to spare during the dazzling episodes, and plumbed the piece for tenderness and lyricism that many pianists gloss over."
The New York Times
"A really stunning, full-bodied sound makes this disc shine. Petersen showcases American piano works with superb technique and measured voicing. A very palatable selection." ****
BBC Music Magazine
"We begin with the headily Impressionistic Fantasy Pieces of Griffes, which are evocatively coloured, with Petersen particularly relishing the Slavic tinges of the third piece. From Ives's Concord Sonata he excerpts the luscious third movement, 'The Alcotts'. It's played with palpable affection, and the way he references Ives's appropriation of the 'fate' motif from Beethoven's Fifth without overstating it is just one example of the subtlety of his musicianship."
Gramophone
"Drew Peterson's playing is clean and crisp, avoiding the bathos some pianists have found in 'The Alcotts'…Elliott Carter's sonata is the surprise joy of this recital…Peterson not only fills the sonata with warmth but glides through the fugue as if it were child's play, capturing the almost Bernstein-like rhythms that were in the New York air in 1945."
Fanfare
"This release marks the recording debut of Drew Peterson, a fast-rising American pianist still in the program at the Juilliard School. His all-American program, which he has performed live in whole or in part many times, is suited to the mission of the Steinway & Sons label, which has done well to sign him to its roster."
All Music
"Following such a breath-taking tempo and beginning, we were treated to a stellar performance of Gershwin's "Concerto in F," which brings together interlacing jazz and classical elements. This piece demands a pianist of the highest technical and interpretive caliber, and we were fortunate to experience such a performance by 24-year-old pianist Drew Petersen. Petersen has all the qualities necessary to capture the grandeur and brilliance of this masterpiece for piano and orchestra. He drew from the piano its last ounces of beauty, strength and precision to end the first half of the concert, receiving an immediate standing ovation. The enthusiasm of the large crowd inspired Petersen to offer two encores of Gershwin songs, the last one a fantastic arrangement of "The Man I Love" by early 20th Century pianist and composer, Earl Wild. Petersen managed the intricacies of this transcription with superior aplomb, again drawing the audience to its feet."
The Republic
"confident and assured"
Arizona Daily Star
"Three of the six finalists played Rachmaninov, but only one brought anything fresh or arresting to these overfamiliar works. That was 21-year-old American Drew Petersen, who – inexplicably as far as I'm concerned – only placed fourth; his account of Rachmaninov's First Concerto was the best of the six performances in the final by some distance, and he perfectly captured the music's youthful ebullience and glitter."
The Guardian
"… he plays the music as the composer intended. There is none of the mannered, exaggerated choreography of many of today's piano virtuosos."
Shelter Island Reporter
"…with his playing of Chopin's Nocturne No. 8 in D-flat major, that the miracle of being a prodigy came wondrously to the fore. It seemed as though Drew Petersen instinctively understood that Chopin was spinning a long, contemplative dream-that the filigree lights and shadows of this hushed work contained the sophisticated languors of a yearning heart.
To hear a 10-year-old boy breathe life and romantic subtlety into so expressive a work, is to encounter the true mystery of what makes so very young a person leap toward the flames of artistic maturity."
The East Hampton Star
Praised for his commanding and poetic performances of repertoire ranging from Bach to Zaimont, American pianist Drew Petersen is the recipient of the 2018 Avery Fisher Career Grant, 2017 American Pianists Award, and the Christel DeHaan Fellow of the American Pianists Association, as well as a residency at the University of Indianapolis. Mr. Petersen has also received prizes from the Leeds International Piano Competition, the Hilton Head International Piano Competition, Kosciuszko Foundation Chopin Competition, and the New York Fryderyk Chopin Piano Competition.
Highlights of Petersen's 2017-2018 season included his debuts with the Tucson and Milwaukee Symphony Orchestras, and performances with the symphony orchestras of Anderson, Indiana, Butler, Pennsylvania, Carmel, Indiana, Adelphi Orchestra, New Jersey, University of Indianapolis Chamber Orchestra, Jupiter Symphony Chamber Players, as well as solo recitals at the Gilmore International Keyboard Festival, University of Indianapolis, Dame Myra Hess Concerts in Chicago, and the Cleveland International Piano Competition for Young Artists. An eight-city U.S. recital tour followed that included performances for California's InConcert Sierra, Indiana's Purdue University Convocations, New York's The University Club of New York, Shelter Island Friends of Music, the Parrish Art Museum, Florida's Chopin Foundation of the U.S., and St. Andrews Estates. Summer 2018 included chamber concerts within Lincoln Center's Mostly Mozart Festival, and a recital at Chicago's Ravinia Festival.
2018 marked the release of his first solo recording of American music on the Steinway label, for which BBC Music Magazine acknowledged his presence as a rising star. The 2018-2019 season includes appearances with orchestras in Indianapolis, New Jersey, Santa Fe and Milwaukee in addition to his Orange County debut.
An avid traveler, Petersen's emerging career frequently takes him abroad, where he sets out to discover new foods and meet locals as eagerly as he performs for new audiences. Overseas engagements have included recitals at the Musica e Arte Festival in Tolentino, Italy; Verbier Festival in Verbier, Switzerland; Euro Arts Music Festival in Leipzig, Germany; and American Spring Festival of the Czech Republic.
A frequent radio contributor, Petersen has performed on McGraw-Hill "Young Artists Showcase", NPR's "From the Top", American Public Radio's "Performance Today" and WFMT's "Impromptus". Profiles include The New York Times, New York Magazine, and the documentary "just normal" by award-winning director Kim A. Snyder. A champion of chamber music, Petersen has appeared on French radio's "France Musique" while a member of a Verbier Festival piano trio.
Drew Petersen's firm belief in the importance of music in contemporary society led to collaborations with Young Audiences NY that presents performances in New York City's public schools. His appearance in Andrew Solomon's New York Times bestselling book, Far From the Tree, sparked a nation-wide conversation on raising extraordinary and different children who test the willpower and capabilities of their families and society. Petersen continually advocates for the necessity of classical music and other arts in society, and was named a 2006 Davidson Fellow for his portfolio entitled "Keeping Classical Music Alive".
Mr. Petersen graduated cum laude from Harvard at age 19 with a Bachelor of Liberal Arts in Social Science and did his undergraduate and graduate music studies at the Juilliard School, the former as a recipient of the prestigious Kovner Fellowship. He is currently enrolled in the Artist Diploma program at the Juilliard School.
OFFICIAL BIO FOR THE 2018-2019 SEASON. LAST UPDATED FEBRUARY 2019.