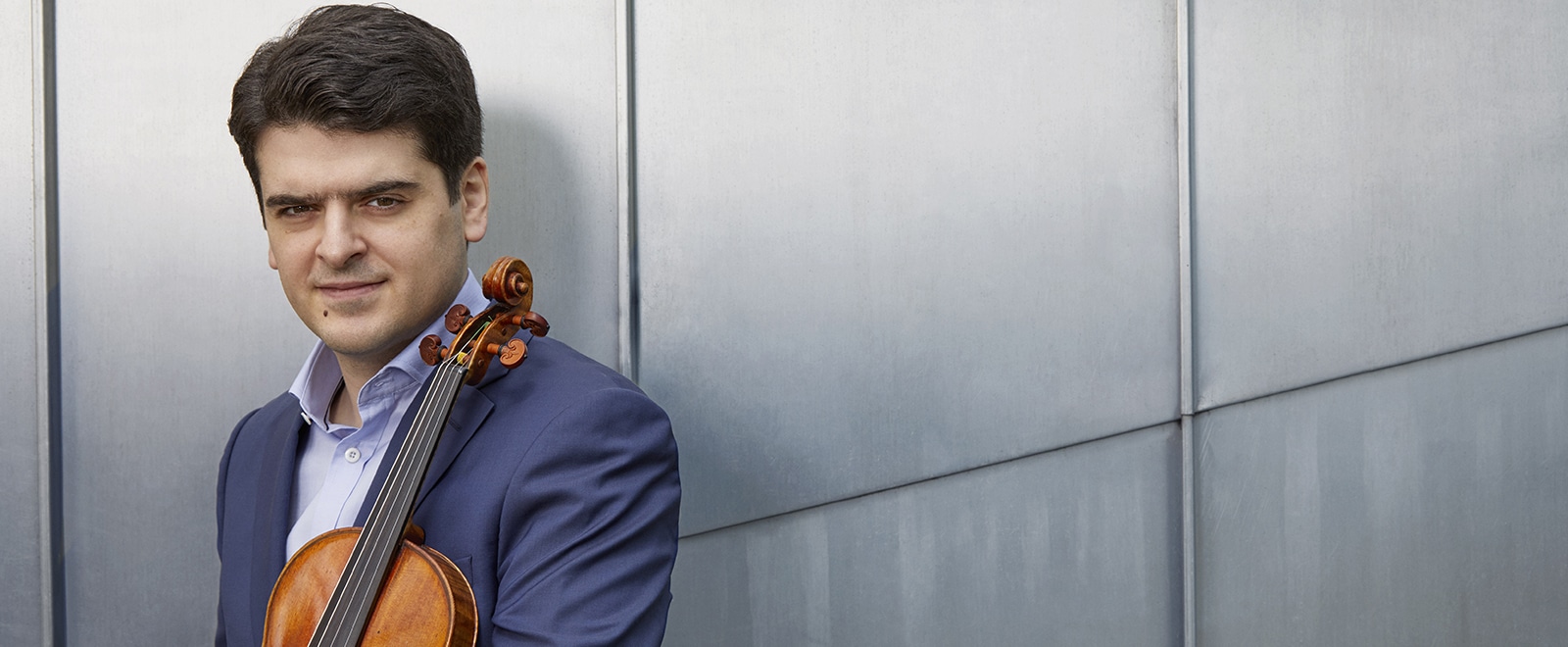 "…this is a violinist that this reviewer believes is destined to rank alongside the likes of Itzhak Perlman and Pinchas Zukerman. His gorgeous, burnished tone is supported by a seemingly effortless bowing arm, spot-on fingering and an intelligent instinct for nuance. Like both of those musical giants he is unfussy, eschewing effects and mannerisms for the clarity of the musical message, and he brings to bear an understanding and expressive depth to his material."
Limelight
"Not only was Barenboim up to the extraordinary technical challenges of the work, but its musical challenges as well. Double stops at the extreme edges of the violin's range were brought off with remarkable transparency and always with a robust sound, no small feat. His harmonics were beautifully rendered, his pizzicato delivered with pizzazz and verve. His bow would produce a poignant and introspective tone as well as a full and muscularly vibrato, wherever the music allowed his wide dynamic palette."
Chicago Classical Review
"Michael Barenboim returned after the intermission to perform the "Devil's Trill Sonata" for solo violin, by Giuseppe Tartini, an 18th-century composer. The audience was clearly divided on whether to clap between movements. The Larghetto affectuoso was very bright and cheery for a piece with such a title, with trills that paralleled Vivaldi. The Sogni dellautore. Andante, allegro assai was the most "devilish," as Barenboim sliced his way to the ending, and a standing ovation."
Palm Beach Post
"Add Barenboim being on fire himself, technically and interpretationally, and it all adds up to a fantastically engaging listen."
Gramophone
"A solid presence, efficient and effective in his movements, he produced a beautiful and pristine line of sound, varied in its color and nuance. With everything so well in hand, one could simply relax and enjoy the heights…In sum, Barenboim was the whole package, and I'll be happy to see his solo career grow, as it certainly will, in the future."
Violinist.com
"The moment you create a beautiful sound, it's worth every effort." This sentence by Michael Barenboim sums up his artistic path so far. Born in 1985, he is a soloist and chamber musician on violin and viola, ensemble founder, concertmaster of the West-Eastern Divan Orchestra, and professor and dean at the Barenboim-Said Academy. Barenboim's versatility and creativity are at the forefront of his work.
Since his breakthrough as a soloist with Schönberg's Violin Concerto under the baton of Pierre Boulez in 2011, Michael Barenboim has been firmly anchored in the international concert scene and has since performed with outstanding colleagues, including the Vienna Philharmonic under Daniel Barenboim, the Chicago Symphony Orchestra under Asher Fisch, the Israel Philharmonic under Zubin Mehta, the Berlin Philharmonic under Vasily Petrenko and the Los Angeles Philharmonic under Gustavo Dudamel. He has also worked as a soloist with orchestras such as the Bavarian Radio Symphony Orchestra, Orchestre Philharmonique du Luxembourg, Accademia Nazionale di Santa Cecilia, Filarmonica della Scala, Philharmonia Orchestra London, Tonhalle Orchestra Zurich, Academy of St Martin in the Fields, Orchestre de Paris and the Spanish National Orchestra.
Michael Barenboim has performed in recital at many famous international halls and in renowned concert series including the Wigmore Hall in London, the Elphilharmonie in Hamburg, the Sydney Opera House, the Teatro di San Carlo in Naples and the Lucerne Festival. He has also played selected works by Pierre Boulez at the Berlin Philharmonie, Carnegie Hall, the Konzerthaus Dortmund, the Barbican Centre London, the Opéra national de Paris and the Salzburg Festival.
In the 2023/24 season, Michael Barenboim will appear at festivals including the Tsinandali Festival, with the Brussels Philharmonic Orchestra, and at the Konzerthaus Wien. He will tour with the West-Eastern Divan Ensemble in Italy, England, Germany, and South America. Michael Barenboim will perform Berg's Chamber Concerto with Thomas Guggeis and the Boulez Ensemble at the Boulez Saal Berlin. After the great success with the Cologne Chamber Orchestra last season, he will once again interpret Mozart's Concertante as a soloist on the viola with violinist Anne-Sophie Mutter, this time with the Vienna Philharmonic. Chamber music has been a major part of Michael Barenboim's concert activities which led to the founding of the West-Eastern Divan Ensemble in early 2020. The ensemble, featuring selected members of the West-Eastern Divan Orchestra, has already undertaken very successful tours of Asia, North America and Europe under his direction. In addition, he gives chamber music concerts at the Jerusalem Chamber Music Festival, the Verbier Festival, intonations, the Beethovenhaus Bonn, the MendelssohnHaus Leipzig, the Philharmonie de Paris, and the Vienna Musikverein. His regular partners include Pinchas Zukerman, Daniel Hope, Elena Bashkirova, Kian Soltani, Daniel Barenboim, Jörg Widmann, and others.
Michael Barenboim is deeply convinced that challenges can be found everywhere in the musical universe and mastering those challenges opens up new perspectives on unknown and well-known pieces alike. This is why he is intensely involved in contemporary music. The interpretation of 20th and 21st Century pieces plays a major role in his work, both as a soloist with orchestra (Widmann, Dutilleux, Ligeti) and in chamber music. Michael Barenboim has already premiered numerous new compositions, including works by Jörg Widmann, Kareem Roustom, Matthias Pintscher, and others.
Beyond his interest in contemporary music, Michael Barenboim likes to keep his musical spirit alive with pieces from many diverse periods. In addition to his intriguing concert programs, his recordings also bear witness to this urge for constant renewal. On his last albums for Accentus, he devoted himself to works by Bach, Bartók, Boulez, Tartini, Berio, Paganini, and Sciarrino. Between 2018 and 2020, he released Mozart's piano quartets and trios as well as the complete Beethoven piano trios with Kian Soltani and Daniel Barenboim on Deutsche Grammophon.
In September 2023 Michael Barenboim released a recording of Elgar's Violin Concerto with the Philharmonia Orchestra London conducted by Alessandro Crudele on Linn Records. He will next record Mendelssohn's "Songs without Words" in an arrangement by Ferdinand David with Natalia Pegarkova-Barenboim at the piano in spring 2024.
For Michael Barenboim, teaching does not only mean imparting perfect technique on an instrument, it also concerns the universal education of his students at the Barenboim-Said Academy in various humanistic fields. After teaching for a long time and chairing the chamber music department, he currently holds a professorship for violin and ensemble playing. In 2020, he was also elected Dean of the Academy.
As a professor of violin and ensemble playing at the Barenboim-Said Academy, Michael Barenboim not only works to impart perfect technique on an instrument, he also considers the universal education of his students in various humanistic fields to be a vital part of their education. He has been chair of the Academy's chamber music department and in 2020 he was elected Dean of the Academy.
SEPTEMBER 2023