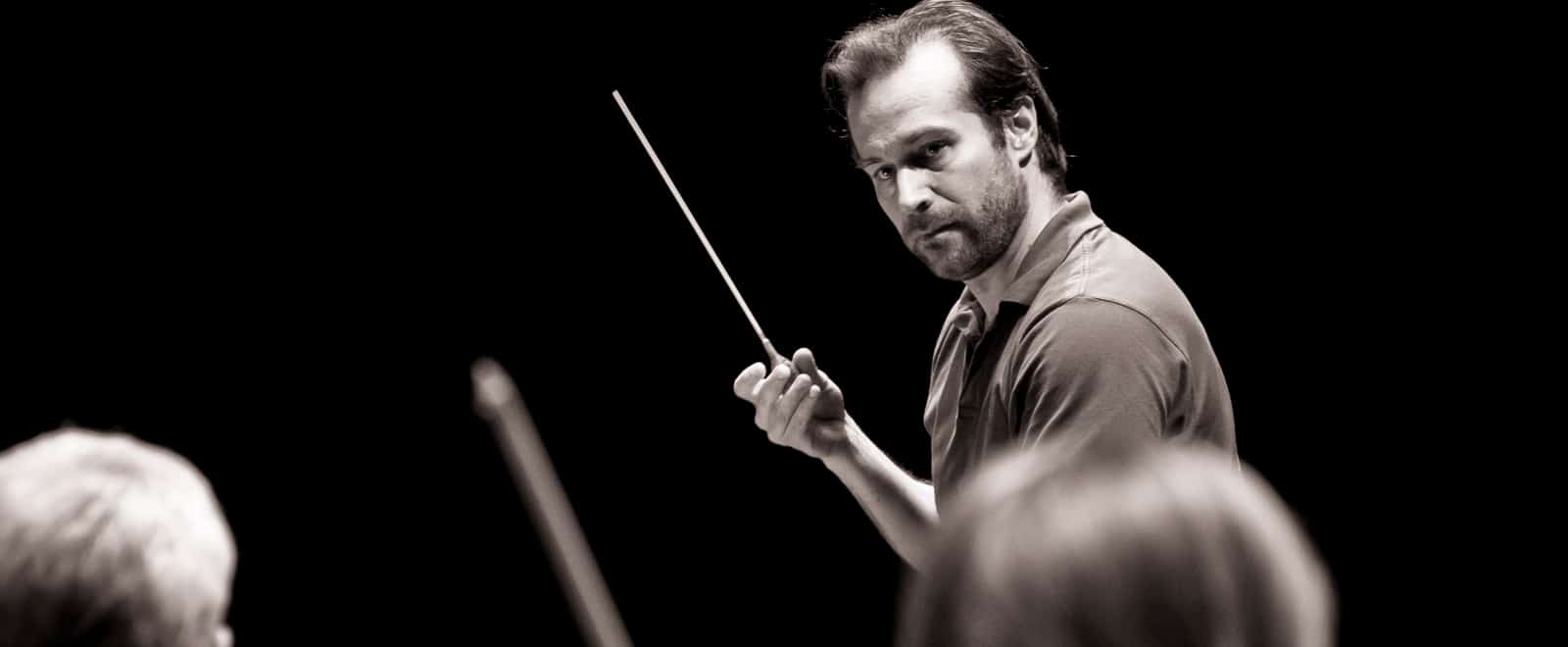 "Conductor Gabel and the OSQ musicians did true justice to Schmitt's score, one of the most notable of the large-scale creations of this master orchestrator. Stentorian brass and resplendent colors from the woodwinds combined with ever-busy strings and a whole raft of percussion arrayed across the right side of the stage, coming together in an über-impressive phalanx of sound that underscored yet again how unique and noteworthy this 1904 score was at the time of its creation – and remains today."
Bachtrack
"Fabien Gabel knows how to delicately reveal all the shimmers in this type of score."
Le Soleil
"This conductor has a real talent for keeping the sound growing with the right intensity…Maestro Gabel proved to be in full control of his interpretation, with a particular interest in nuance and detail. His gestures drew the music beautifully and his sound was attractive."
URBAN Milwaukee
"The MSO under Gabel's expert leadership magnificently brought out all its subtleness and grandeur; I especially appreciated the somewhat slower tempos Gabel took throughout the piece, thereby allowing the listener to hear the work's textures all the more."
Shepherd Express
"Gabel and the orchestra spun it out in silky, caressing phrases—a seductive counterbalance to the Straussian heroics.

Gabel and the orchestra were simpatico partners with  Gomyo all the way. The orchestra's transparency enabled her to whisper without being drowned out, and Gabel kept the group in sync with her free-spirited pacing."
Texas Classical Review
"The orchestra sparkled in these variations, led by Gabel with pronounced baton work in his right arm and florid sculpting with his left."
San Diego Union-Tribune
Hailed as "boldly evocative" by the Cleveland Plain Dealer, conductor Fabien Gabel is recognized internationally as one of the stars of a new generation of conductors. A regular guest of major orchestras in Europe, North America and Asia, Gabel has been praised by the San Diego Union Tribune as "[A] conductor…able to both lead and follow,"  and has been the Music Director of the Orchestre Symphonique de Québec since September 2012, and Music Director of the innovative Orchestre Français des Jeunes, since 2017.
Gabel's 2018-19 season features a diverse range of repertoire and seven conducting debuts, including his highly-anticipated podium debut with the Chicago Symphony Orchestra, as well as return engagements with leading orchestras around the world. In his seventh season as Music Director of the Orchestre Symphonique de Québec, he leads the orchestra with a star-studded lineup of soloists, including Lisette Oropesa, Michael Schade, and Marie-Nicole Lemieux.The conductor continues to lead major orchestras across the United States, returning to the Houston Symphony Orchestra, Detroit Symphony Orchestra, and Milwaukee Symphony where last season Gabel "showed astounding musicianship" (Shepherd Express).
Gabel's European engagements feature debuts with the Netherlands Radio Philharmonic, Vienna's Tonkünstler Orchester, Orchestre de la Suisse Romande, and Warsaw Philharmonic, as well as welcome returns to the Deutsches Symphonie Orchester, Orchestre National de Bordeaux Aquitaine, engagements at the Philharmonie de Paris with the Orchestre national d'Île-de-France and the Orchestre Français des Jeunes, and with the Danish National Symphony Orchestra. Outside of Europe and the United States, Gabel makes debuts with Melbourne Symphony Orchestra, Tasmania Symphony, and returns to the Seoul Philharmonic.
Recent major successful guest conducting collaborations include the London Symphony Orchestra, Mahler Chamber Orchester, Cleveland Orchestra, NDR Elbphilharmonie Orchester, Milwaukee Symphony Orchestra, Washington's National Symphony Orchestra, Frankfurt's Hessischer Rundfunk Orchester, London Philharmonic Orchestra, BBC Symphony Orchestra, Oslo Philharmonic, and regular collaborations with the Orchestre de Paris, Helsinki Philharmonic Orchestra, Antwerp Symphony Orchestra and Detroit Symphony Orchestra.
Fabien Gabel has worked with soloists like Emanuel Ax, Seong-Jin Cho, Gidon Kremer, Christian Tetzlaff, Jean-Yves Thibaudet, Alina Pogostkina, Julian Steckel, Johannes Moser, Antonio Meneses, Marc-André Hamelin, Beatrice Rana, Gautier Capuçon, Simone Lamsma, Xavier de Maistre, and Bertrand Chamayou, and singers such as Jennifer Larmore, Measha Bruggergosman, Danielle de Niese, Natalie Dessay, and Marie-Nicole Lemieux.
Fabien had first attracted international attention in 2004 winning the Donatella Flick competition in London, which subsequently led to his appointment as the LSO's assistant conductor for the 2004-2005 and 2005-2006 seasons. Since then, the LSO has engaged him regularly as a guest conductor.
Born in Paris and a member of a family of accomplished musicians, Fabien Gabel began studying trumpet at the age of six, honing his skills at the Conservatoire National Supérieur de Musique de Paris, which awarded him a First Prize in trumpet in 1996, and later at the Musik Hochschule of Karlsruhe. He went on to play in various Parisian orchestras under the direction of prominent conductors such as Pierre Boulez, Sir Colin Davis, Riccardo Muti, Seiji Ozawa, Simon Rattle and Bernard Haitink. In 2002 Fabien Gabel pursued his interest in conducting at the Aspen Summer Music Festival, where he studied with David Zinman, who invited him to appear as a guest conductor at the Festival in 2009. He has worked with Bernard Haitink and Sir Colin Davis as their assistant.
AUGUST 2018