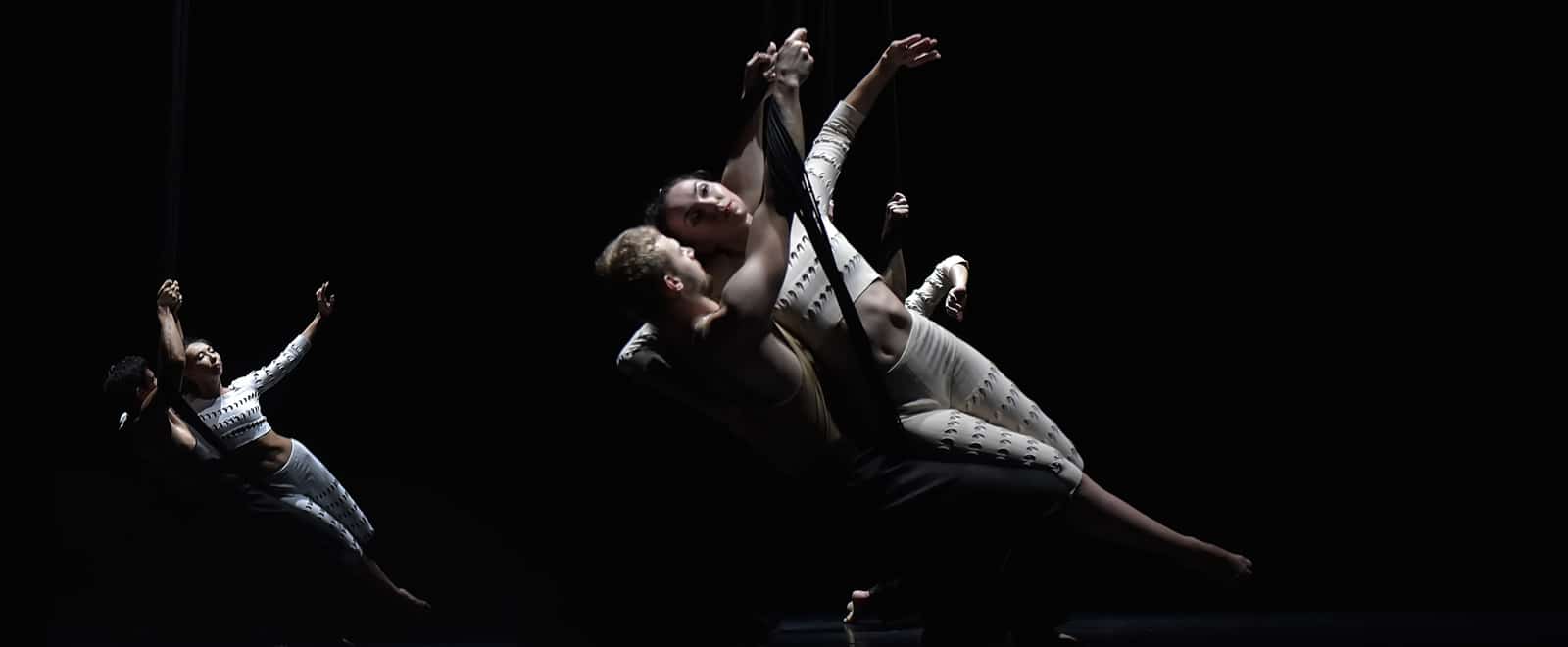 "From the moment the dancers…walked onto the stage, they managed to hold the audience in their grasp. Executing a combination of flawless moves founded in classical ballet, yet infused with athleticism and stark, modern moves, it was a captivating performance."
Broadway World
"The ensembles are set with great precision, the ten virtuoso dancers alternating point and counterpoint, slowness and speed, strength and grace, violence and softness."
La Marseillaise
"…it's a storybook ballet unlike any you've ever seen…Much of the dancing by this astonishingly small cast of 10 is terrifically inventive and athletic, with muscular lifts, lifted scissor kicks, modern port du bras with straight clapping arms as well as pas de deuxes with waving arms as if the dancers are sea creatures amid jellyfish floating in a starry night sky. Images such as this are the magnificent handiwork of set and video designer Constance Guisset in collaboration with lighting designer Éric Soyer. Along with floating, smoky projected images of fabric or perhaps flowing hair, it's moody and fascinating to watch…"
Encore Michigan
"With "The Painting on the Wall (La Fresque)," one sees how skilled Angelin Preljocaj is at telling stories without compromising any choreographic demands…There are breathtaking scenes, like the girls hanging by their hair, and duos of delicate sensuality, which take us into a dream of the Thousand and One Nights and of Chinese shadows…This well-composed metaphor reveals an imagination of beautiful poetic force."
La Terrasse
"The Painting on the Wall is above all the creation of a very successful team. One certainly finds again here what makes a successful dance for Preljocaj, this inimitable fluidity of choreography, an economy of gesture that immediately shows the essential without distraction, the ideas that arise when one least expects them, and the tenderness which, even in the most dramatic passages, regulates the bodies of the dancers."
Concertonet
Created in December 1984 by Angelin Preljocaj, the Preljocaj company became the National Choreographic Centre of Champigny-sur-Marne and Val-de-Marne in 1989. In 1996, the ballet was welcomed at the Cité du Livre in Aix-en-Provence and became Ballet Preljocaj – National Choreographic Centre of the Provence-Alpes-Côte d'Azur Region, the Bouches-du-Rhône Department, the Pays d'Aix Community and the City of Aix-en-Provence.
Since founding his company, now composed of 24 dancers, Angelin Preljocaj has created 50 choreographic works, ranging from solo to larger formations. The Ballet performs about 100 dates per year on tour, in France and abroad. Angelin Preljocaj has multiplied his collaborations with other artists such as Enki Bilal (Roméo et Juliette, 1990), Air (Near Life Experience, 2003) Granular Synthesis (« N », 2004), Fabrice Hyber (Les 4 saisons…, 2005), Jean Paul Gaultier (Snow White, 2008), Constance Guisset (Le funambule, 2009), and Azzedine Alaïa (The Nighs, 2013).
His creations have been restaged by numerous other repertory companies, from which he also receives requests to create new pieces, including La Scala in Milan, the New York City Ballet, the Staatsoper in Berlin and the Paris Opera Ballet.
Beyond the repertory performances, Ballet Preljocaj has worked to bring dance to Aix-en-Provence and neighboring communities. The outreach has included lectures on dance interpretation through video, open public rehearsals, contemporary dance classes and workshops, and dance interventions in urban public space – all means of viewing and understanding dance from different perspectives.
In 2006 Ballet Preljocaj moved into a new home in Aix-en-Provence, The Pavillon Noir. The space was designed by the architect Rudy Ricciotti exclusively for dance and allows artists to experience the entire creative process, from workshops and rehearsals to staging and performance. The Pavillon Noir opened its doors on October 20, 2006. Performances are programmed year round, both artistic director Angelin Preljocaj's creations and from other invited companies.