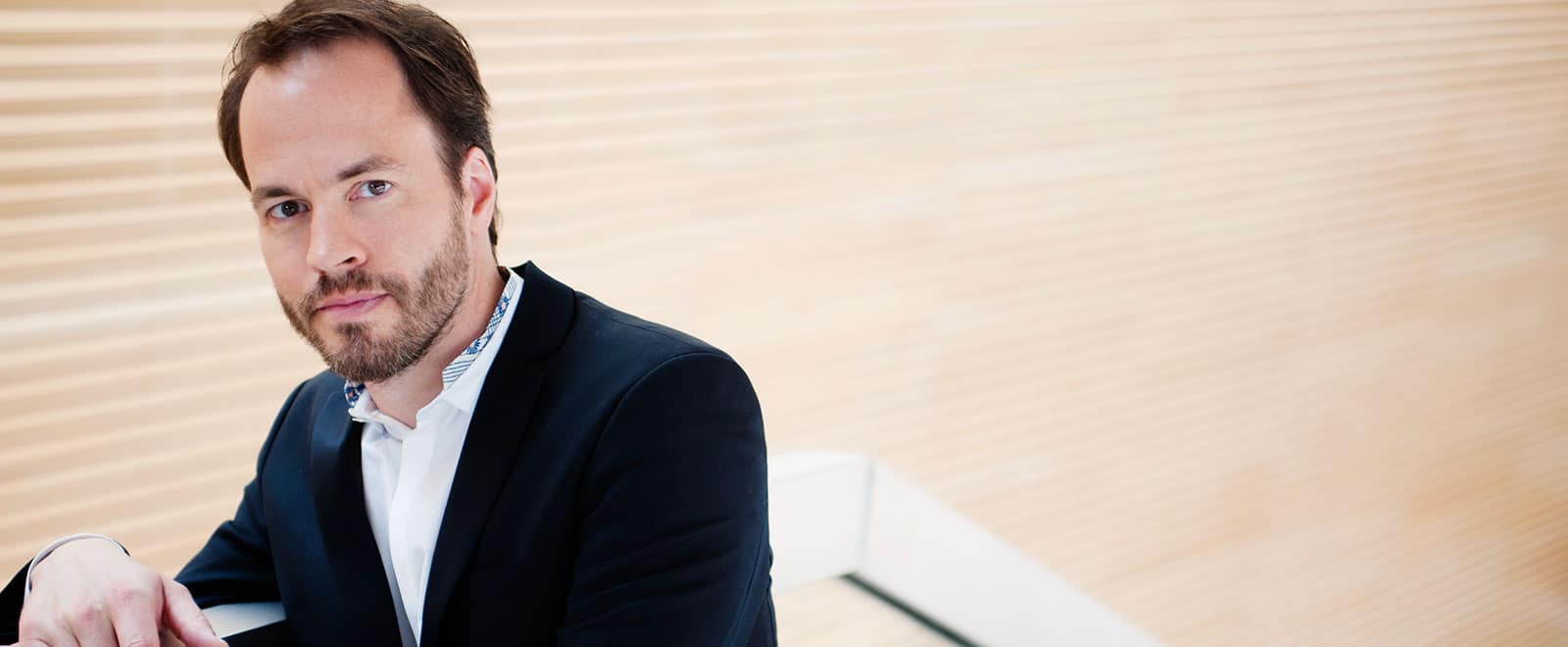 "Johannes Debus made an excellent impression in his company debut, leading a tight, disciplined performance of this difficult score. … when it came to communicating the essential character of the piece, Debus was right on the mark, finding thrilling tension in the lean, hard edges of the score."
New York Classical Review
"COC music director Johannes Debus keeps his 100-plus orchestra on a tight leash, rarely, as so often occurs with Elektra, allowing their enthusiasm to drown out the singers. And, while Strauss's score may have come as a shock in 1909, it is a wondrous marvel for today's ears when so expertly elucidated by Debus."
The Toronto Star
"The conducting … was superb …. Johannes Debus, in Hoffmann, kept textures light and agile, but didn't stint on grandeur."
The New York Times
"Debus was a … large presence on the podium. His conducting technique was vigorous and broadly physical. He leaned into his cues with big full-armed sweeps, prompting enthusiastic playing from the orchestra…He employed a flexible rubato, lingering on phrase endings, pushing ahead to build momentum. The orchestra responded in kind, persuasive collaborators in his musical vision."
San Diego Union-Tribune
"Lepage's fantasy world would never be complete without the marvelous music performed by the COC Orchestra – led by Maestro Johannes Debus. Debus pulled some of the most delicious colours out of the orchestra, creating an other-worldly atmosphere with his intuitive understanding of Stravinsky's score."
Broadway World
"Conductor Johannes Debus and the COC orchestra wring lots of emotion from the score, whether it's in the elegiac arias, exciting ballroom waltzes or those urgent, heart-stopping moments of unbridled passion."
Now Toronto
Johannes Debus has been Music Director of the Canadian Opera Company (COC) since 2009, having been appointed immediately following his debut. His 2019-20 season includes performances of Rusalka, Hänsel und Gretel, and The Flying Dutchman.
Recent highlights include Debus's debuts with the Seattle, Oregon, and Milwaukee Symphonies; Santa Fe Opera conducting Jenůfa; ORF Vienna Radio Symphony Orchestra; Hallé Orchestra; and the Bilbao Orkestra Sinfonikoa, and return engagements with the Frankfurt Radio, Toronto, Kansas City, and San Diego Symphonies; the Metropolitan Opera conducting The Tales of Hoffmann; and the Bregenz Festival conducting the Austrian premiere of Goldschmidt's Beatrice Cenci with the Vienna Symphony.
Debus conducts regularly at the Bayerische Staatsoper Munich, Staatsoper unter den Linden Berlin, and Frankfurt Opera and has appeared in new productions at English National Opera and Opéra National de Lyon. He made his debut at the BBC Proms with Britten's Sinfonia in 2014, and conducted a new production of The Tales of Hoffmann at the 2015 Bregenz Festival.
As guest conductor, he has appeared at several international festivals such as the Biennale di Venezia and Schwetzingen Festivals, Festival d'Automne in Paris, Lincoln Center Festival, Ruhrtriennale, Suntory Summer Festival, and Spoleto Festival. He has appeared with The Cleveland Orchestra, Boston Symphony Orchestra, and the Philharmonia in London.
Debus graduated from the Hamburg Conservatoire before being engaged as répétiteur and, subsequently, Kapellmeister by Frankfurt Opera where he acquired an extensive repertoire from Mozart to Thomas Adès. At home in both contemporary music and the core repertoire, he has conducted a wide range of world premieres and works of the twentieth and twenty-first centuries. He has collaborated with internationally-acclaimed ensembles such as Ensemble Intercontemporain, Ensemble Modern, Klangforum Wien, and Musikfabrik. He enjoys an ongoing relationship with the Royal Conservatory of Music in Toronto.
AUGUST 2019