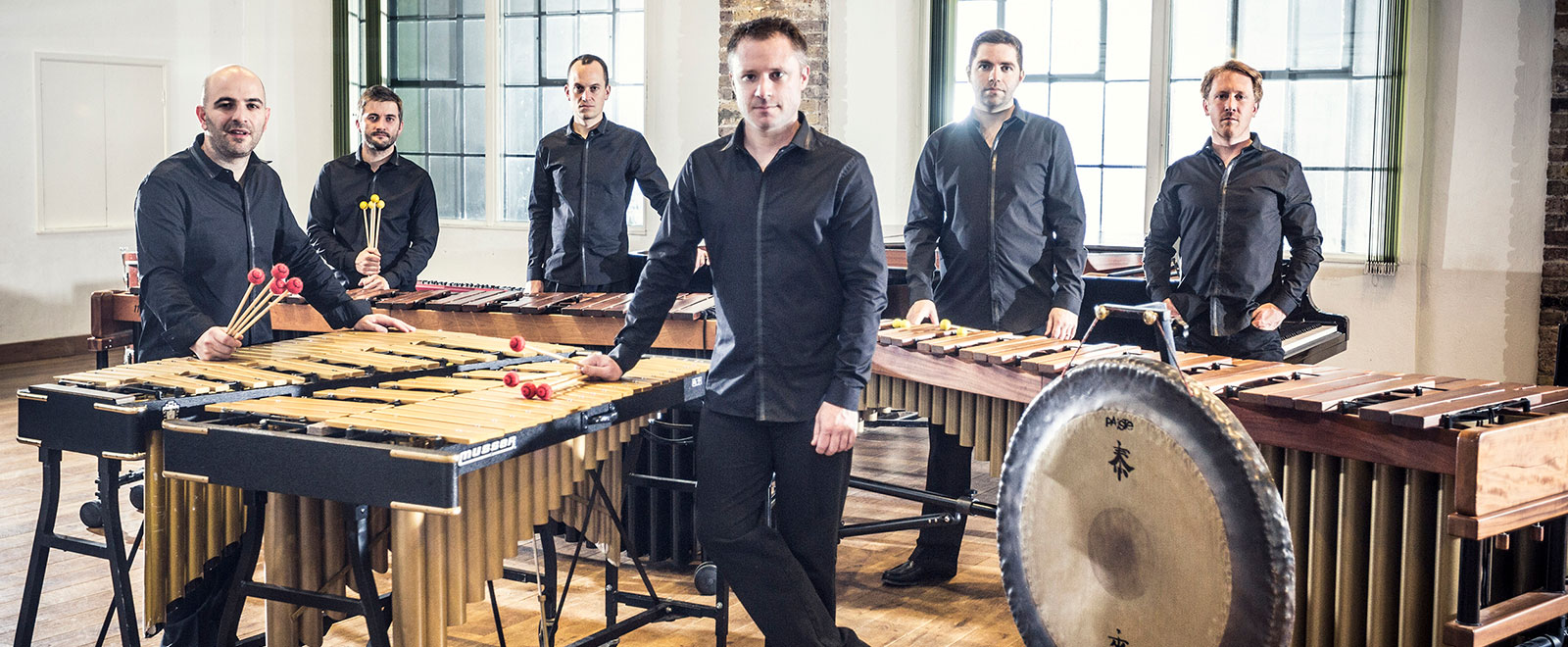 "Another performance that knocked my socks off was Colin Currie and his group doing Drumming at the South Bank [in London] this year. It was miked up high, it was expressionist, it was a brand new take. And I thought, Oh, we never could have done it that way."
Steve Reich in Irish Times
"The performances, led by Currie, seemed exemplary. Each performance worked like a well-oiled machine, the players appearing to stroll from one instrument to the next. It's the musical equivalent of a high-wire act; everyone is striving mightily to seem relaxed, but we know disaster is only one slip away."
Daily Telegraph
"The performance was technically impeccable and musically overwhelming; richly deserving of the lengthy standing ovation."
The Guardian
"Held together by eye contact, ear contact, intimate understanding of the score and collective breathing, the performance was both aurally and visually exciting – a work of art and also one of craft at its most disciplined and alert."
The Independent
"The implacable sound of the bongos mixes with the visual ballet… the marimbas answer each other in a sonorous halo where all the parameters of the sound intertwine and mix: rhythm, melody, timbre, texture."
Bachtrack
"I was exhausted and elated just listening to it. I can't imagine the feelings of those performing."
The Times
"A stirring performance led by the percussionist Colin Currie.. written for two vibraphones and two pianos, the 17-minute Quartet is Mr. Reich's first piece for those two instruments alone, and the combination is ingenious and seductive, and deployed with subtle craftsmanship."
The New York Times
"Reich's Music for 18 Musicians rarely comes better presented than it was by the Colin Currie Group… The performance was technically impeccable and musically overwhelming; richly deserving of the lengthy standing ovation."
The Guardian *****
"Currie and his chamber group gave scintillating performances of three Reich classics, culminating in a magnificent account of his chef d'oeuvre, Music for 18 Musicians. The Festival Hall acoustic was perfect, allowing it to create the impression of a complex mobile gracefully turning, in which each musician played an independent and eloquent part. It was one thing and many things, simultaneously static and bursting with event: a joyful conundrum."
The Independent *****
"To be able to sustain this level of complexity from such simple basic material was a tour de force for both composer and performers. As an experience in sound, this was a revelation but it packed a powerful visual punch as well."
Herald Scotland
Colin Currie Group is a virtuosic ensemble that specialises in the music of Steve Reich. Their performances of Reich's music have been hailed by the composer as "the best I've ever heard" (Tehillim, Tokyo 2017).
Led by Colin Currie ("the world's finest and most daring percussionist," Spectator), the hand-picked group was formed in 2006 for a performance of Drumming at the BBC Proms to celebrate the 70th birthday of Steve Reich. In the subsequent decade, the group have performed Drumming around the world. They have expanded their repertoire to include many of Reich's most popular works, including Music for 18 Musicians, Sextet, Tehillim and Music for Pieces of Wood and are privileged to have frequently had the composer present when rehearsing and performing these works.
"Another performance that knocked my socks off was Colin Currie and his group doing Drumming at the South Bank [in London] this year. It was miked up high, it was expressionist, it was a brand new take. And I thought, Oh, we never could have done it that way." Steve Reich on the Colin Currie Group, Irish Times, July 2011
In 2014 the Group premiered Steve Reich's Quartet (for two pianos and two vibraphones), dedicated by Reich to Colin Currie. Since the premiere at London's Southbank Centre, the group have given multiple performances of this work, including across the UK, Europe, Asia and America.
The group's highly anticipated recording of Drumming was released on Colin Currie Records in Spring 2018 after a successful Kickstarter campaign to raise funds, fully supported by Steve Reich who said "it will be, I am sure, the best recording of Drumming ever made".
The Colin Currie Group has appeared in concert at major halls and festivals worldwide, having made their international debut at Tokyo Opera City Concert Hall in 2012 and their European debut at the Concertgebouw, Amsterdam. Other highlights have included concerts in the opening season of the Elbphilharmonie, Hamburg, returning to Tokyo Opera City (March 2017), and performances at Southbank Centre, Paris Cité de la Musique, Cologne Philharmonie, Prague Strings of Autumn Festival, Rotterdam De Doelen, Glasgow Minimal Festival, Helsinki Festival and Macau Festival.
In the 2017/18 season Colin Currie Group gave three performances of Reich's music at the Louis Vuitton Fondation, Paris at the request of the composer himself. They will also perform in the UK at London's Kings Place and return to Saffron Hall.