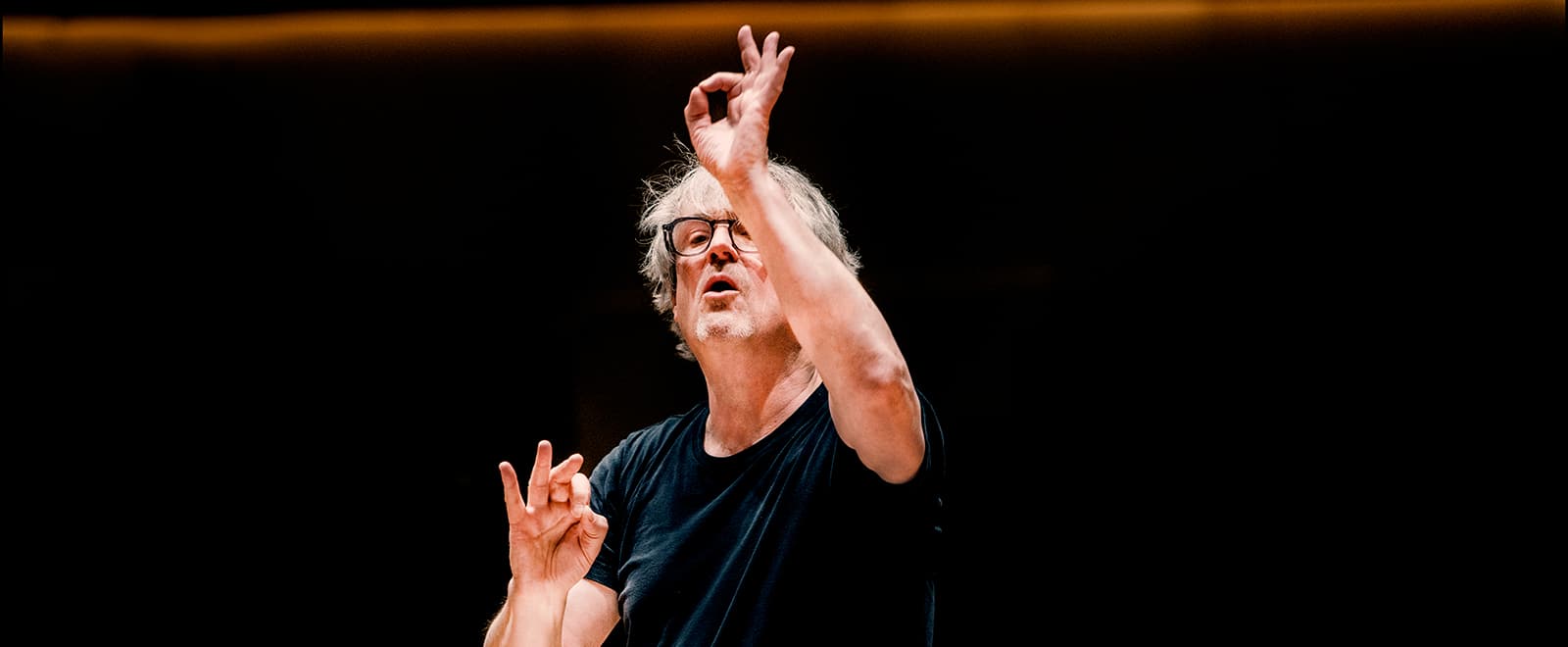 "Ingo Metzmacher conducts the score with brittle brilliance, every orchestral effect raspingly precise."
The Guardian
"Ingo Metzmacher conducts with corresponding violence, effectively vulgar, always in control, seldom subtle; the orchestra rewards him with slick yet forceful playing."
Financial Times
"It is to Metzmacher's great credit that he found the right way to approach this work, highlighting its many felicities of scoring and keeping Schoenberg's massive orchestra in good balance. In Metzmacher's hands, the tone poem became almost an opera without words."
Cleveland.com
"Under Ingo Metzmacher's conducting, the orchestra played Berg's music with elegance and sophistication."
BachTrack
"…and Ingo Metzmacher lets the orchestra smolder, breed and explode into skewed marches – all of this forms a finest hour of darkness."
Weiner Zeitung (translation)
Conductor Ingo Metzmacher has distinguished himself through his innovative programming and profound dedication to twentieth and twenty-first century music; to make the new sound familiar and the familiar sound new has been Metzmacher's focus since the beginning of his career.
His current season includes concerts with the Leipzig Gewandhaus Orchestra, SWR Symphony Orchestra, Vienna Symphony Orchestra, Swedish Radio Symphony Orchestra, Helsinki Philharmonic Orchestra, New Japan Philharmonic, Seoul Philharmonic Orchestra, Deutsches Symphonie-Orchester Berlin and Ensemble Modern. He is conducting Schoenberg's Pierrot lunaire at the Festival d'Automne à Paris, directed by Marlene Monteiro Freitas, as well as the world premiere of Plate's Liberation with the NDR Radiophilharmonie. In May 2023, he presents the eighth edition of the KunstFestSpiele Herrenhausen under his artistic direction.
Metzmacher has led productions at many of the great international opera houses including the Vienna State Opera, Opéra de Paris, La Scala, Teatro Real and the Zurich Opera House. Highlights of recent seasons include new productions of operas by Nono, Rihm and Enescu at the Salzburg Festival as well as the world premiere of Staud's Die Weiden at the Vienna State Opera, new productions of Strauss' Salome at the Festival d'Aix-en-Provence, Enescus Œdipe and Shostakovich's Lady Macbeth of Mtsensk in Paris and Braunfelds Die Vögel (The Birds) at the Bavarian State Opera.
He has conducted leading orchestras such as the Berlin Philharmonic, Vienna Philharmonic, Royal Concertgebouw Orchestra, The Cleveland Orchestra, Chicago Symphony Orchestra, Bavarian Radio Symphony Orchestra, Czech Philharmonic, Russian National Orchestra, St. Petersburg Philharmonic, Orchestre de Paris, Orchestre Philharmonique de Radio France and the BBC Symphony Orchestra.
From 2007 to 2010, Metzmacher was Chief Conductor and Artistic Director of the Deutsches Symphonie-Orchester Berlin, where his innovative thematic concert cycles – among them From the German Soul, Breakthrough 1909, and Temptation, as well as a new series titled Casual Concerts – made a lasting impact on the city's musical life. Various tours led him and the orchestra throughout Europe and Asia.
Metzmacher was General Music Director of the Hamburg State Opera from 1997 until 2005, where he led a series of internationally acclaimed productions, many of them in collaboration with stage director Peter Konwitschny. Subsequently, he was named Chief Conductor of the Dutch National Opera in Amsterdam. Highlights of his tenure there include performances of the three Mozart-Da Ponte operas, Henze's The Bassarids, Korngold's Die Tote Stadt, Schreker's Die Gezeichneten, and Messiaen's Saint François d'Assise.
As a pianist, he has appeared in recitals with Christine Schäfer, Christian Gerhaher, Matthias Goerne and Georg Nigl at the Aspen Music Festival, London's Wigmore Hall, the Schubertiade Schwarzenberg,  the Salzburg Festival and the KunstFestSpiele Herrenhausen.
Metzmacher's wide-ranging discography includes live recordings of his legendary New Year's Eve concerts in Hamburg from 1999 to 2004 entitled Who's Afraid of 20th Century Music?, a complete recording of Hartmann's symphonies with the Bamberg Symphony Orchestra, the world premiere of Henze's Ninth Symphony with the Berlin Philharmonic, Olivier Messiaen's Eclairs sur l'Au-delà… with the Vienna Philharmonic, Pfitzner's Von deutscher Seele, and Humperdinck's Königskinder with the Deutsches Symphonie-Orchester Berlin, as well as live recordings of Shostakovich's Lady Macbeth of Mzensk at the Vienna State Opera and Nono's Prometeo at the Salzburg Festival. Most recently, he released two recordings with Ensemble Modern: Andre's cycle riss and Beschenkt – 40 miniatures celebrating the ensembles 40th anniversary.
In his book Vorhang auf! Oper entdecken und erleben [Curtain Up! Discovering and Experiencing Opera], published in 2009, Metzmacher presents operas from four centuries and explains the making of a music theatre production. He is also the author of Keine Angst vor neuen Tönen [Don't Be Afraid of New Sounds], published in 2005, a passionate plea for pioneering composers such as Luigi Nono, Charles Ives, Olivier Messiaen, Arnold Schoenberg, Edgard Varèse, Karlheinz Stockhausen, and John Cage.
Born in Hanover, Metzmacher studied piano, music theory, and conducting in his home- town, as well as in Salzburg and Cologne. He found his first artistic home in Frankfurt with the Ensemble Modern and at the Frankfurt Opera under the artistic directorship of Michael Gielen. His international career began in 1988, during Gerard Mortier's tenure as director of the Théâtre de la Monnaie in Brussels, when he stepped in to conduct a new production of Schreker's Der ferne Klang.
OCTOBER 2022