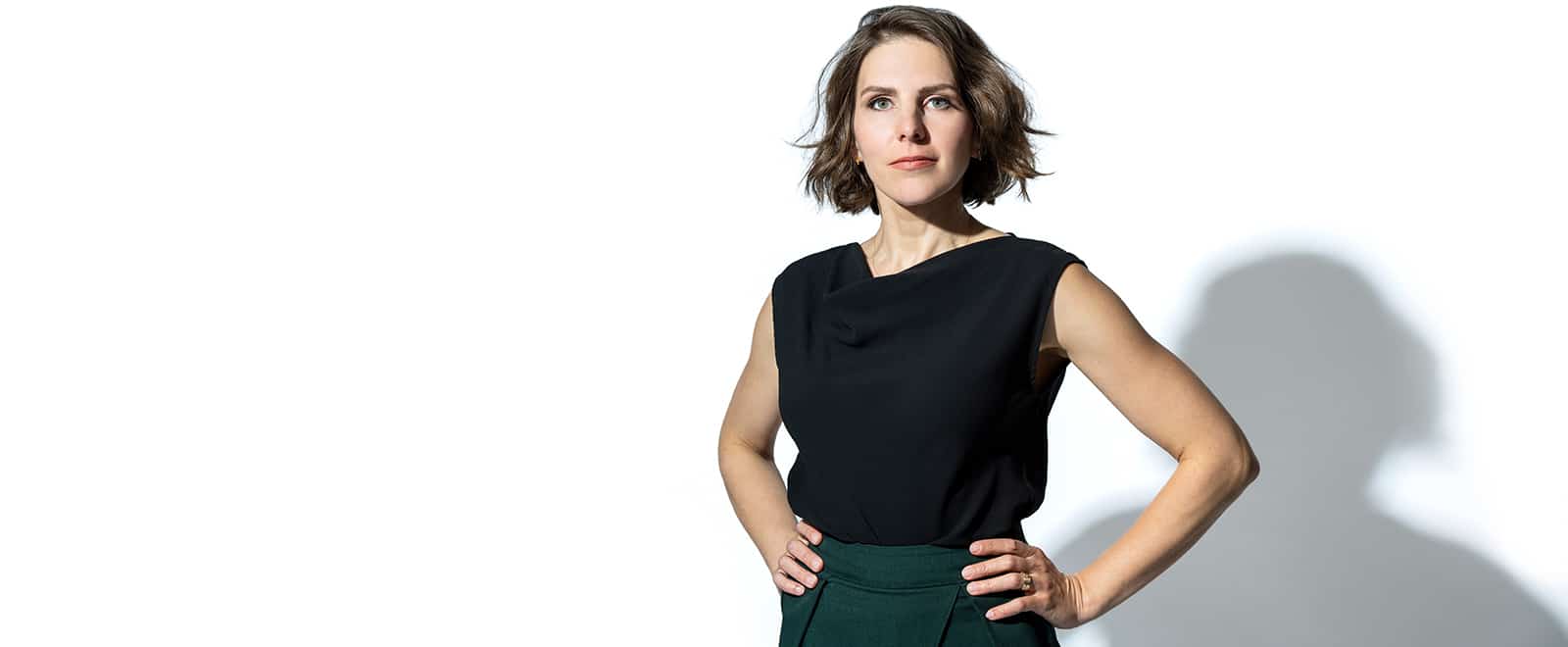 "If there were a futures market for classical music, the touts would be pushing Lidiya Yankovskaya."
WBUR
"Chicago Opera Theater may be entering a golden age in its history—a Russian golden age. The company had its most successful season in a decade last year, with new music director Lidiya Yankovskaya. Saturday night the juggernaut continued… Yankovskaya continues to impress with every performance. Even working behind the singers and stage action, she balanced the large orchestra, cast, chorus and wind effects with great clarity and dramatic point, keeping this complex and challenging score on track with clear direction and firm momentum."
Chicago Classical Review
"With Yankovskaya firmly in control, the orchestra was lively and idiomatic…"
Wall Street Journal
"Yankovskaya conducted with a sinuous but strong-boned rhythmic mastery, and the production caught both the storybook aspects of the piece and its emotional urgency…Rimsky-Korsakov's Mozartean pastiche is deftly pulled off, and Yankovskaya balanced her forces with confident aplomb."
San Francisco Chronicle
"Under Yankovskaya's passionate baton, the orchestra heaved and swirled in massive, dark waves…Yankovskaya is injecting new energy and focus to Chicago Opera Theater. Attention should be paid."
Musical America
"The star of the show was Yankovskaya, who led the orchestra with such a lively vigor and power, clearly showing great affinity and respect to Dvorák's score and musical idioms. In her hands, the orchestra came alive and the 'storytelling' became extremely evocative, loud and clear. In addition, Yankovskya was also very sensitive to her singers, never drowned them even during the loudest climaxes."
Parterre Box
"A defining success in the history of the company… This section and the rest of the score are handsomely realized by the Chicago Opera Theater's pit orchestra, masterfully led by music director Lidiya Yankovskaya, who never allows the momentum to flag."
Chicago Sun-Times
"Yankovskaya brought forth brilliantly colored accompaniment from the orchestra, where the most exciting musical action takes place. The chorus, too, proved resplendent, onstage and off."
Chicago Tribune
"The orchestra, under Yankovskaya's attentive baton, seethed and suffered right along with Boris."
San Francisco Classical Voice
"20 For 20 | Artists To Watch. It's hard to keep track of the force of nature that is Russian-American conductor Lidiya Yankovskaya."
WQXR
Lidiya Yankovskaya is a fiercely committed advocate for Slavic masterpieces, operatic rarities, and contemporary works on the leading edge of classical music. She has conducted more than 40 world premieres, including 17 operas, and her strength as a visionary collaborator has guided new perspectives on staged and symphonic repertoire from Carmen and Queen of Spades to Price and Prokofiev. As Music Director of Chicago Opera Theater, her daring performances before and amid the pandemic earned recognition from the Chicago Tribune, which praised her as "the very model of how to survive adversity, and also how to thrive in it," while naming her Chicagoan of the Year.
Following her debut at Santa Fe Opera in a new production of Dvořák's Rusalka in summer 2023, Ms. Yankovskaya will conduct orchestras across the United States. She debuts at Atlanta Symphony Orchestra, Indianapolis Symphony Orchestra, Utah Symphony, North Carolina Symphony, Phoenix Symphony, Louisiana Philharmonic Orchestra, and Symphony San Jose. Ms. Yankovskaya deepens her ongoing relationship with the Chicago Symphony Orchestra, leading MusicNOW world premieres by Jessie Montgomery and Curtis Stewart, and designing a series of educational concerts. At Chicago Opera Theater, she leads a new Francesca Zambello production of The Nose and David T. Little's Soldier Songs in the company's 50th anniversary season.
Ms. Yankovskaya has recently conducted Eugene Onegin at Staatsoper Hamburg, Symphony of Sorrowful Songs at English National Opera, Carmen at Houston Grand Opera, and Don Giovanni at Seattle Opera. Elsewhere she has led Der Freischütz at Wolf Trap Opera, Edward Tulane at Minnesota Opera, and Taking Up Serpents at Washington National Opera and the Glimmerglass Festival. On the concert stage, recent engagements include Los Angeles Philharmonic, New York Philharmonic, National Symphony Orchestra, Chicago Symphony Orchestra, Dallas Symphony Orchestra, Houston Symphony, and Julia Wolfe's Anthracite Fields with Bang on a Can All-Stars and The Choir of Trinity Wall Street at Carnegie Hall.
In the six years since her appointment as Elizabeth Morse and Genius Music Director of COT, Ms. Yankovskaya has spearheaded the commissioning of 11 new operas, advancing the work of seven female composers and seven creators of color. She has led the Chicago premieres of Heggie's Moby-Dick, Talbot's Everest, Tchaikovsky's Iolanta, Rachmaninoff's Aleko, and Szymanowski's King Roger. Under her leadership, COT has also established the Vanguard Initiative, an immersive two-year residency for emerging opera composers that culminates with the development of a full-length opera, enriching the repertory with new voices and experiences that resonate with today's audiences.
This adroit combination of musical skill and cultural advocacy is a hallmark of Ms. Yankovskaya's career. She was born in St. Petersburg, Russia, and immigrated to the United States as a refugee when she was nine years old. Her experiences inspired her to found the Refugee Orchestra Project, which proclaims the societal relevance of refugees through music. ROP has brought that message to hundreds of thousands of listeners around the world, with performances in London, Boston, Washington, D.C., and the United Nations. This important work has been featured on CNN, The Today Show, NowThis, Newsweek, and BBC World Newsday, bringing classical music and artists' compelling stories to audiences well beyond the concert hall and opera house.
Ms. Yankovskaya has served as Artistic Director of the Boston New Music Festival and Juventas New Music Ensemble, which was the recipient of multiple NEA grants and National Opera Association Awards under her leadership. As Music Director of Harvard's Lowell House Opera, she conducted sold-out performances of repertoire rarely heard in Boston, including Tchaikovsky's The Queen of Spades, Britten's A Midsummer Night's Dream, and the U.S. Russian-language premiere of Rimsky-Korsakov's The Snow Maiden. Her commitment to exploring the breadth of symphonic and operatic repertoire has also been demonstrated with the American premieres of Donizetti's Pia de' Tolomei, Rubinshteyn's The Demon, and Rimsky-Korsakov's Kashchej The Immortal and Symphony No. 1.
An alumna of the Dallas Opera's Hart Institute for Women Conductors and the Taki Alsop Conducting Fellowship, Ms. Yankovskaya has also served as assistant conductor to Lorin Maazel, chorus master of Boston Symphony Orchestra, and conductor of Boston Youth Symphony Orchestra. She has been featured in the League of American Orchestras Bruno Walter National Conductor Preview and Cabrillo Festival for Contemporary Music, and assisted Vladimir Jurowski via a London Philharmonic fellowship.
Ms. Yankovskaya holds a B.A. in Music and Philosophy from Vassar College, with a focus on piano, voice, and conducting, and earned an M.M. in Conducting from Boston University. Her conducting teachers and mentors have included Lorin Maazel, Marin Alsop, Kenneth Kiesler, and Ann Howard Jones. Committed to developing the next generation of artistic leaders, she also volunteers with Turn The Spotlight, a foundation dedicated to identifying, nurturing, and empowering leaders – and in turn, illuminating the path to a more equitable future in the arts.
Ms. Yankovskaya is the proud two-time recipient of Solti Foundation U.S. Career Assistance Awards. She has been a featured speaker at the League of American Orchestras and Opera America conferences and served as U.S. Representative to the World Opera Forum in Madrid. She was delighted to deliver the commencement address for graduates of the Bienen School of Music at Northwestern University.
JUNE 2023