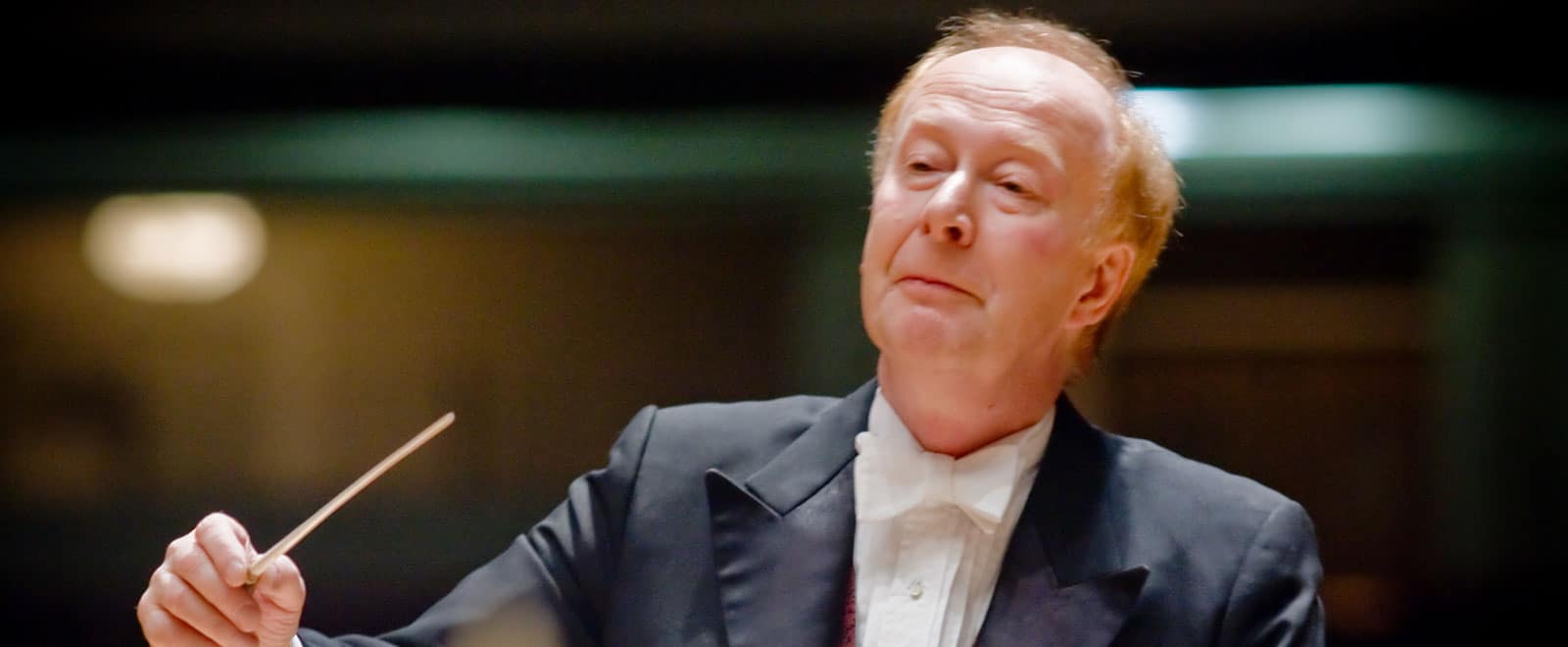 Christopher Seaman
Conductor
NORTH AMERICA
Jenny Vogel
Executive Vice President
Manager, Artists & Conductors
323.954.1776

Julijana Mijalković
Assistant
323.954.1776
"…there was refined brilliance from all sections, especially solo flute, brass and percussion…Seaman carefully crafted each variation, bringing out internal voicings to reveal the mastery of its orchestration. Seaman urged restraint at the beginning of the Nimrod Variation so that, as the movement built, its eventual climax appeared even more radiant."
Sydney Morning Herald
"Throughout this symphony [Elgar 2nd Symphony], bolstered by sweeping precision in the violins and juicy tremolos in the cellos, the orchestra gave Seaman precisely what he asked of them — big, lush playing that created music that satisfies."
Democrat & Chronicle
"Seaman used dynamic contrasts as expressive tools and as a means to draw the audience beyond the music and into the text of the work."
Milwaukee Journal Sentinel
"In the second half, conductor Christopher Seaman took the spotlight with Pyotr Ilyich Tchaikovsky's Symphony No. 5 in E minor, conducting with a deft touch and fine command. It was a well-conceived interpretation, strong and authoritative at the beginning, big and exciting at the end, with some nice contrasts in between and not a dull measure to be found. The crowd loved it."
St. Louis Post-Dispatch 
British conductor Christopher Seaman has an international reputation for inspirational music making. His diverse musical interests are reflected in his range of repertoire and he is particularly known for his interpretations of early 20th century English music, Bruckner, Brahms and Sibelius.
With a long and distinguished career in the US, Mr. Seaman was Music Director of the Rochester Philharmonic Orchestra until 2011 and was subsequently named Conductor Laureate. During his 13-year tenure – the longest in the orchestra's history – he raised the orchestra's artistic level, broadened its audience base and created a new concert series. This contribution was recognized with an award from the American Society of Composers, Authors and Publishers.
Other key positions have included Music Director of the Naples Philharmonic Orchestra, Conductor-in-Residence with the Baltimore Symphony Orchestra, Artistic Advisor of the San Antonio Symphony and in the UK, Principal Conductor with both the BBC Scottish Symphony Orchestra and Northern Sinfonia.
As a guest conductor, he has regularly performed with the Aspen Music Festival, Detroit, Houston, St Louis, Cincinnati, Milwaukee, Nashville and Seattle symphony orchestras, the Warsaw Philharmonic Orchestra, Kristiansand Symphony Orchestra, Orchestra of Opera North and Orquestra Filarmônica de Minas Gerais in Brazil. He frequently visits Australia and Asia where he has conducted the Hong Kong Philharmonic Orchestra and the National Taiwan, Sydney, Melbourne, Adelaide, and Singapore symphony orchestras. The 2017/18 season includes return engagements with Rochester Philharmonic and Nashville Symphony orchestras, as well as dates with Des Moines Symphony, Melbourne Symphony, Australian Youth Symphony orchestras and Tampere Philharmonic Orchestra.
Acknowledging his outstanding leadership as conductor, recording artist, teacher and community arts partner, the University of Rochester awarded Mr. Seaman an Honorary Doctor of Music in 2009 and in 2013 published his first book, Inside Conducting, illustrating his wealth of experience as a conductor and a teacher. The book was chosen by both The Financial Times and Classical Music magazine as one of their books of 2013; while The Spectator wrote that it "demystifies the art and the figure of the conductor."
Mr. Seaman makes a point of encouraging young talent and was the Course Director of the Symphony Services International Conductor Development Programme in Australia for many years, devoting a number of weeks each year to teaching and directing training programmes for young conductors. He has led masterclasses with the Tonhalle-Orchester Zürich and has also worked with the National Youth Orchestra of Great Britain, and the Guildhall School of Music and Drama.
As a recording artist he has worked with the Royal Philharmonic and the Philharmonia orchestras amongst others, and his recordings with the Rochester Philharmonic Orchestra have received great critical acclaim – The Sunday Telegraph described their 2012 harmonia mundi recording of Vaughan Williams' A London Symphony as a "fine recording of an English classic … as impressive as I have ever heard."