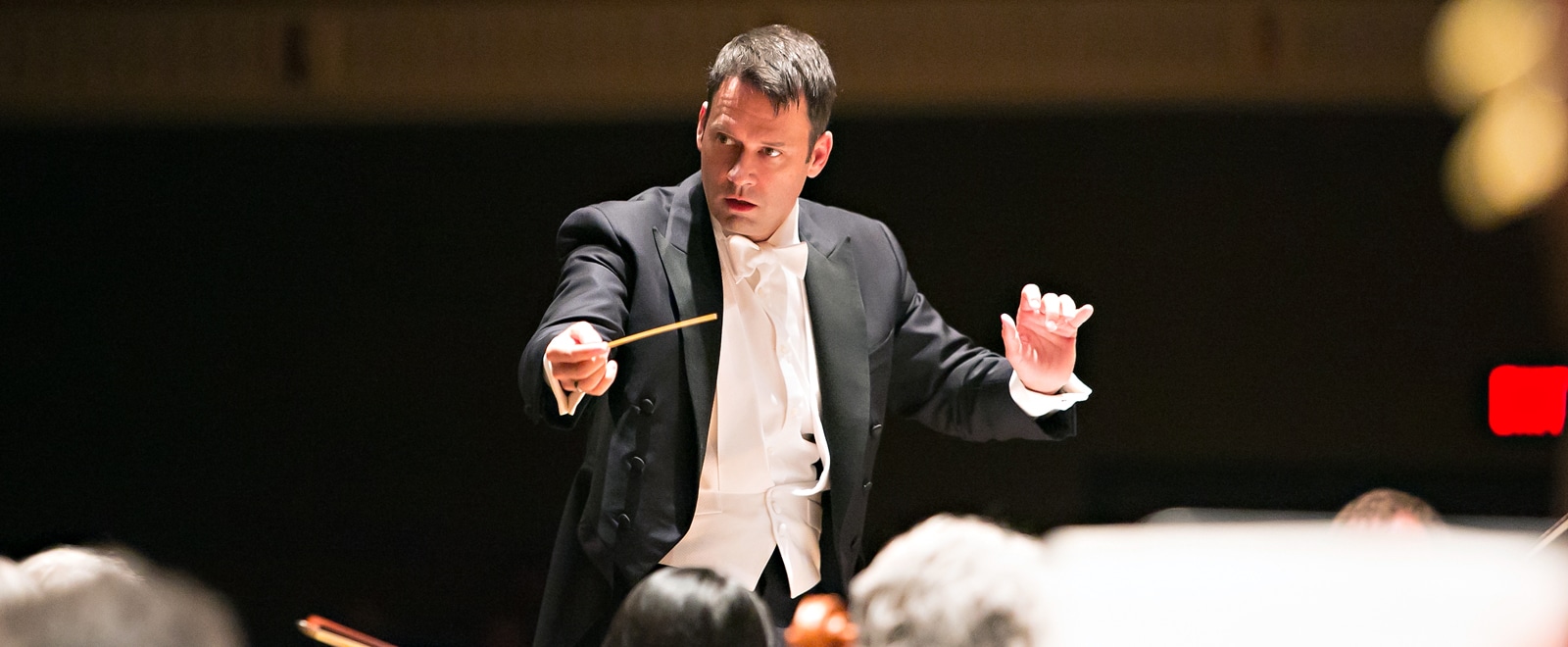 "Moody and the orchestra treat the score as a serious classical piece, bringing out the nuances so stylishly, it was indeed a moving movie opener […] Yang, Moody and the symphony were all focused, creating a truly thrilling performance of this lesser-heard piece [Korngold's Violin Concerto] […] Shostakovich's Fifth Symphony finished out the night in a rousing, emotional performance with Moody leading the charge […] The orchestra's playing of the finale was rousing and awe-inspiring, as the consistency of the passion in the playing was felt throughout."
Winston-Salem Journal
Robert Moody is in his 6th season as Music Director of The Memphis Symphony Orchestra and 17th season as Music Director of Arizona Musicfest.  Under his artistic leadership, the Memphis Symphony has also enjoyed exponential growth in programming, recording, new commissions, and endowment growth to over $25 million. AZ Musicfest has become the premiere Winter Music Festival in North America, boasting a festival orchestra roster comprised of players from the world's greatest orchestras.
During the 2021-22 season, Moody debuts with the Aachen and Erfurt Symphony Orchestras in Germany, as well as the Sacramento Philharmonic.  In January 2022, he conducts a gala program with his friend Renee Fleming and the Lakeland Symphony Orchestra. Return engagements include the Pacific Symphony (CA), Sewanee Music Festival, and the three major orchestras of South Africa in Durban, Johannesburg, and Cape Town. Moody has previously conducted many of the major orchestras of the world, including Chicago Symphony at Ravinia, Los Angeles Philharmonic the Hollywood Bowl, the Toronto, Dallas and Houston Symphonies, Orquesta Filarmonica de Bogotá, and the Vienna Chamber Orchestra.
Prior to his position in Memphis, Moody was Music Director for both the Portland Symphony (Maine) and the Winston-Salem Symphony (North Carolina). He previously held conducting positions with the Phoenix Symphony, Evansville Philharmonic, Santa Fe Opera, Brevard Music Center, New York City Youth Orchestra, and Landestheater Linz.
Moody collaborated with the Canadian Brass for their Bach and Legends albums, and he was the conductor for the album Fourth World, highlighting the music of Native American recording artist R. Carlos Nakai (available on the Canyon Record label). The Winston-Salem Symphony released their live 2009 performance of Beethoven's Symphony No. 9; a DVD recording of the same by the Arizona Musicfest followed in 2012.
A South Carolina native, Moody holds degrees from Furman University (voice and cello) and the Eastman School of Music, where he earned his conducting degree with Donald Neuen.  He is a Rotarian and has served on the boards of AIDs Care Services, Winston-Salem YMCA, WDAV Classical Radio, and the Charlotte Master Chorale.   Moody and his partner, organist Jimmy Jones live in Memphis with their two dogs and one cat.  Moody is an avid runner, swimmer, history buff, "Jeopardy!" addict, and snow-skier.
NOVEMBER 2021