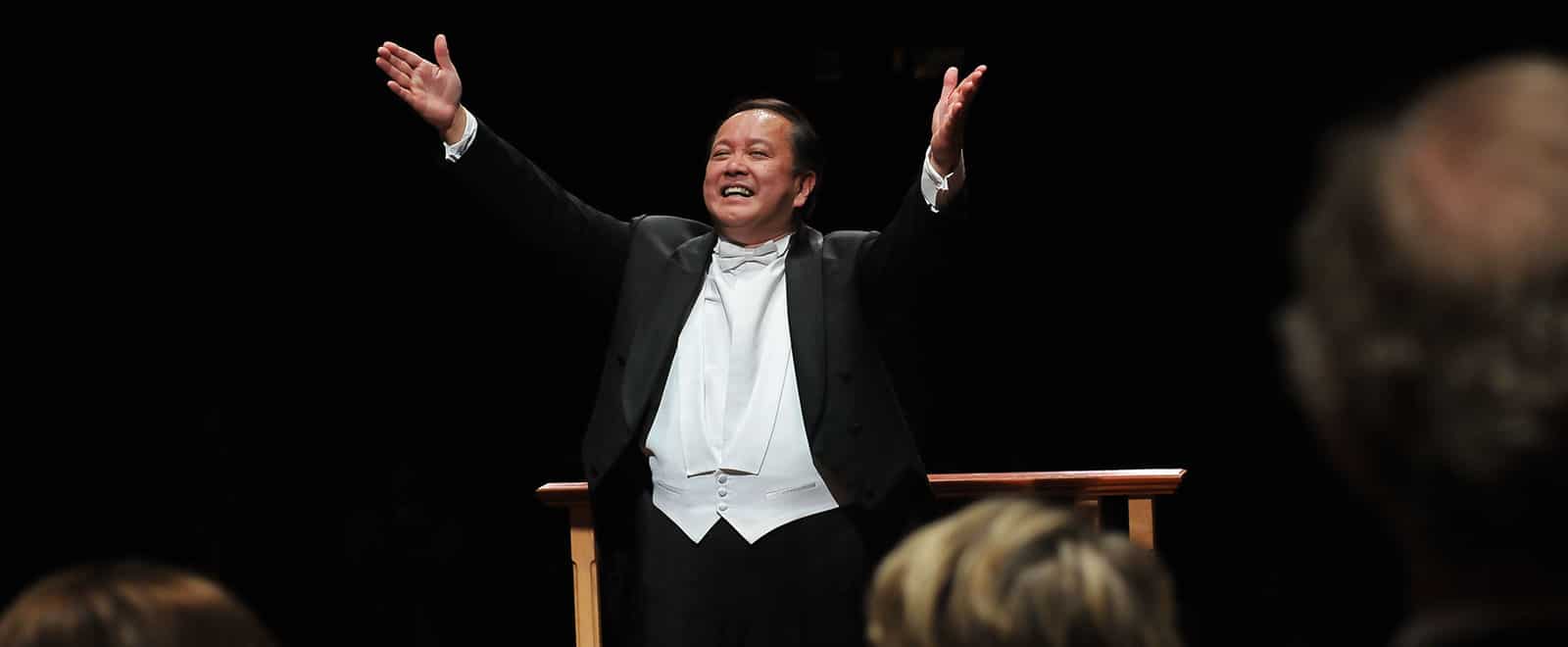 "In addition to technical virtuosity, Ling — now the San Diego Symphony's conductor laureate — always brings the orchestra his own superb gift of being able to strip preconceptions and layers of cliché from music that has been too much used and sometimes abused. […]And that's just what he did with Samuel Barber's "Adagio for Strings,"[…] Ling launched the uncoiling melody into the hall like a great lariat and brought every listener into its circle. The profound silence that followed its last notes was a testament to Barber's artistry…"
San Diego Union Tribune
"…Jahja Ling was the all-knowing docent who paused in front of each of Viktor
Hartmann's works to point up interesting details — a brushstroke here, a shading there. [Mussorgsky Pictures] The results were extraordinary. Ling's unhurried, penetrating gallery tour unmasked hidden elements that rarely come to light — or reach the ear."
Cleveland Classical
"…Cleveland's former resident conductor and Blossom Festival director returned from intermission with a personal offering of his own: a luxurious, deeply-felt performance of Elgar's "Enigma" Variations. The hallmark in this case was pacing. Rather than hurry through the familiar music, as many do, Ling refreshingly basked in it, enforcing contrast and giving the orchestra and soloists in most sections all the room they needed. They, in turn, responded with eloquence. Among the many highlights was Ling's "Nimrod" Variation, an immaculate balancing of exquisite softness and forceful emotion. "
Cleveland.com
"Not afraid to extract as much emotion as possible, Ling was precise, warm and in control, and the audience was instantly thunderous in its appreciation at the final note."
The Barefoot Review
Jahja Ling's distinguished career as an internationally renowned conductor has earned him an exceptional reputation for musical integrity, intensity and expressivity. Born in Jakarta, Indonesia and now a citizen of the United States, he is the first and only conductor of Chinese descent to hold a music director position with a major orchestra in the US and has conducted all of the major symphony orchestras in North America including Boston, Chicago, Cleveland, Los Angeles, New York, Philadelphia, Pittsburgh and San Francisco.
The 2016-17 season marked Mr. Ling's 13th and final season as Music Director of the San Diego Symphony. Mr. Ling is universally praised for his work in building the San Diego Symphony Orchestra from a post-bankruptcy state to one of the top tier major orchestras during his 13-year tenure. He appointed more than 70 new musicians from all over the world to form the remarkable ensemble and together they collaborated with the world's greatest soloists. In October of 2013, Mr. Ling led the orchestra in their first appearance at Carnegie Hall, followed by their first international tour to China where they appeared in five concerts. Together they have recorded works for Telarc Records and Naxos, and eight other CDs on the orchestra's own label. The Orchestra has named him the first Conductor Laureate in its history.
Mr. Ling holds one of the longest continuous relationships with one of the world's greatest orchestras, The Cleveland Orchestra, beginning in 1984 and lasting 33 seasons. Mr. Ling also served as Music Director of The Florida Orchestra (1988-2003), Artistic Director of the Taiwan Philharmonic/NSO (1998-2001), and Assistant and Associate Conductor of the San Francisco Symphony. Deeply committed to education, Mr. Ling served as founding Music Director of the Cleveland Orchestra Youth Orchestra (1986-1993), the San Francisco Symphony Youth Orchestra (1981-84), and Director of Tanglewood/BU Young Artists Orchestra during 1983 and 1984 seasons. Last season he was named to the position of Distinguished Principal Guest Faculty of the Cleveland Institute of Music.
Mr. Ling made his European debut with the Leipzig Gewandhaus Orchestra in 1988 and has appeared with the Philharmonic orchestras of China, Cophenhagen, Hong Kong, Netherlands (Radio), London (Royal), and Stockholm; the Symphony orchestras of Berlin (Radio), Guangzhou, Hangzhou, Jakarta, Leipzig (MDR), Taiwan, Hamburg (NDR), Shanghai, Singapore, and Sydney; and the Chamber orchestras of Lausanne and Scotland.Mr. Ling conducted Whitney Houston in the national anthem at Super Bowl XXV and in 1983 he conducted a special concert in San Francisco for a state visit of England's Queen Elizabeth II. As part of the celebrations marking the return of Hong Kong to China, Mr. Ling led the Scottish Chamber Orchestra in Hong Kong in May 1997. In 2009 he conducted the Worldwide Chinese Festival Orchestra in the new National Center for the Performing Arts in Beijing, and Chinese Central Television (CCTV) and Phoenix Television in China telecast an hour-long profile of his musical journey worldwide. In June of 2012 he conducted the Schleswig Holstein Festival Orchestra in Berlin's O2 World with Lang Lang on the occasion of his 30th birthday, including Herbie Hancock and 50 young pianists from around the world.
Mr. Ling is acclaimed not only for his interpretation of the standard repertoire, but also for the breadth of contemporary music included in his programs. Among the world premieres he has conducted are works by William Bolcom, Paul Chihara, Gordon Chin, Daniel Kellogg, George Perle, Bright Sheng, Alvin Singleton, Augusta Read Thomas, Michael Torke, Mark Anthony Turnage and Ellen Taaffe Zwilich, with orchestras including The Cleveland Orchestra, Detroit Symphony, The Florida Orchestra, New York Philharmonic and San Diego Symphony.
Mr. Ling's recordings for Telarc include the Dupré Organ Symphony and the Rheinberger Organ Concerto with soloist Michael Murray and the Royal Philharmonic Orchestra, and two albums of baroque works with the Scottish Chamber Orchestra (the first of which was nominated for a Grammy®). In 1998 Azica Records released a disc with Mr. Ling and the Florida Orchestra entitled Symphonic Dances, featuring Bernstein's Symphonic Dances from West Side Story, Strauss's Rosenkavalier Suite and Ravel's Suite No. 2 from Daphnis and Chloé. Mr. Ling and The Florida Orchestra have also recorded Stephen Montague's From the White Edge of Phrygia for Continuum. His performance with the New York Philharmonic of the world premiere of Ellen Taaffe Zwilich's Third Symphony is featured in a recent compact disc collection of Philharmonic performances entitled American Celebrations. Recent releases with The Cleveland Orchestra include a special edition CD featuring Mr. Ling and the orchestra performing Saint-Saëns' Organ Symphony for the rededication of Severance Hall's Norton Memorial Organ.
Mr. Ling began playing piano at the age of four under the tutelage of Suzy Djoeandy and Rudy Laban. He studied piano and conducting at Juilliard where he earned both a bachelor's and master's degree. Mr. Ling continued his conducting study at Yale School of Music where he earned a Doctor of Musical Arts. He was awarded the Leonard Bernstein Conducting Fellowship at Tanglewood Music Center and the Los Angeles Philharmonic Institute under Mr. Bernstein. He was awarded an honorary doctorate by Wooster College in 1993.  Mr. Ling recently received the Bravo Classical Music Icon Lifetime Achievement Award from San Diego County for his contribution to enriching the cultural life of San Diego. He makes his home in San Diego with his wife, Jessie, and their daughters Priscilla and Stephanie.
MARCH 2018