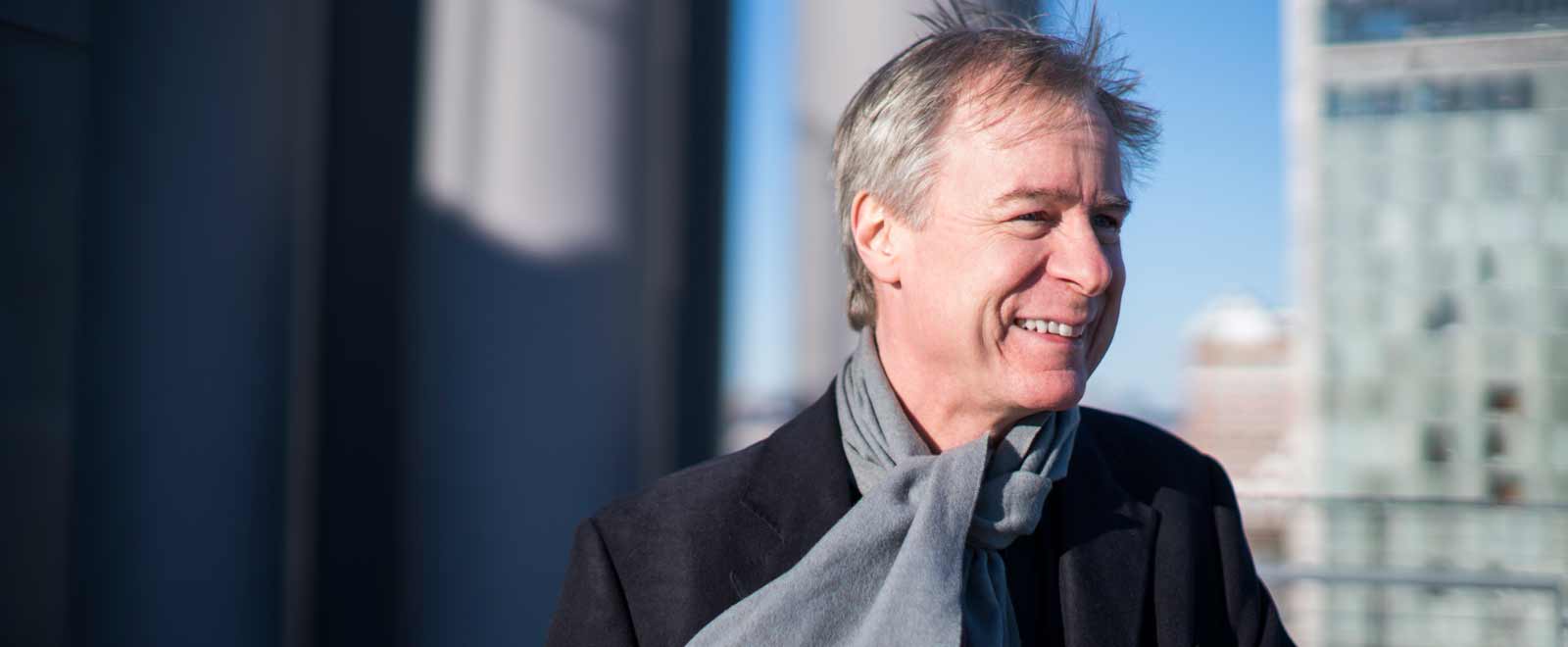 STRIKINGLY FRESH
"The program ended with a strikingly fresh account of Sibelius's popular Second Symphony. Mr. Robertson drew out the music's misty colorings and hints of Finnish folk song, while emphasizing the visionary elements of this 1902 score, especially its structural daring, full of startling disruptions to the music's flow."
The New York Times (On David Robertson with the New York Philharmonic)
A BRILLIANT POLYMATH
"Robertson is a brilliant polymath who can casually toss a connecting reference to a painting or a work of literature into a musical discussion. He's got a great ear for talent, a gift for gab, a well-tuned sense of humor and a friendly way with audiences… Under Robertson's leadership, the St. Louisans have been in the forefront of American orchestras."
St. Louis Post-Dispatch (On Robertson's 13 years as Music Director of the St. Louis Symphony Orchestra)
FLAIR and PRECISION
"Conductor David Robertson and the orchestra realized Dean's evocative accompaniments with flair and precision, smoothly shifting between foreground and background… He and the orchestra tore straight into the finale from the scherzo, and the impassioned urgency was almost overwhelming."
The Australian (On the World Premiere of Brett Dean's Cello Concerto, and Brahms Symphony No. 4, with the Sydney Symphony Orchestra)
BUOYANT
"David Robertson's conducting was buoyant (as in the clipped phrases of the chorus "Bella vita militar!") and hauntingly transparent when necessary…"
The Wall Street Journal (On Così fan tutte, at The Metropolitan Opera)
FOCUS and FIRE
"David Robertson, the St. Louis's music director, shaped 'Canyons' with a sure hand. He quelled any suspicion that the work is indulgent or rambling; at the same time, he respected Messiaen's meditativeness, his silences. The orchestra responded with playing of focus and fire."
The New Yorker (On Messiaen's From the Canyons to the Stars…)
TRANSPARENT and RIVETING
"That David Robertson conducted the St. Louis Symphony Orchestra at Carnegie Hall on Saturday night in the most transparent and riveting account of Sibelius's elusive Fifth Symphony in memory would have been momentous enough…. As they applauded the boss after the Gruber piece, the musicians seemed impressed with Mr. Robertson's daring and versatility. How many conductors could gleefully sing the crazed words 'Frankenstein is dancing with the test-tube lady' and then 24 hours later lead a serenely confident account of Wagner's most spiritual music?"
The New York Times
David Robertson – conductor, composer, artist, thinker, and American musical visionary – occupies some of the most prominent platforms on the international music scene.  A highly sought-after podium figure in the worlds of opera, orchestral music, and new music, Robertson is celebrated worldwide as a champion of contemporary composers, an ingenious and adventurous programmer, and a masterful communicator whose passionate advocacy for the art form is widely recognized.  A consummate and deeply collaborative musician, Robertson is hailed for his intensely committed music making.
To begin the 2023-24 season and continuing a deep and longstanding relationship, David Robertson returns to his home orchestra, the New York Philharmonic, to conduct works by Ligeti, including the US premiere of Mifiso la sodo, Brahms, and the New York premiere of Elena Firsova's Piano Concerto with his longtime collaborator Yefim Bronfman.  In the Fall, Robertson will return to The Philadelphia Orchestra to conduct works by Reena Esmail, Haydn, and Beethoven.  Continuing frequent guest appearances, Robertson will return to the Seattle Symphony in late Fall to conduct Mahler's Symphony No. 5, and the second performances of his own composition, Light forming, a Piano Concerto, written for Orli Shaham and premiered in 2022.  In the Winter period, Robertson will return to Europe to conduct the Royal Danish Orchestra, Stavanger Symphony Orchestra, Netherlands Radio Philharmonic Orchestra, and then again in the Spring to conduct the Deutsches Symphonie Orchester-Berlin, and return to the Prague Spring Festival to conduct the Czech Philharmonic.
In October and December, 2023, Robertson begins a three year tenure as the Utah Symphony and Opera's inaugural Creative Partner with evolutionary concert ideas at three junctures each season.  The fall concerts will feature a monumental focus on the human voice, including Bruckner's Christus factus est, Act II from Berg's Wozzeck, and Beethoven's Symphony No. 9; and a poetic sense of place, with En Saga by Sibelius, Ives' Three Places in New England, and Schumann's "Rhenish" Symphony.  The 2023-24 trilogy of Utah concerts will culminate in the Spring with the first live manifestation of Robertson's international guitar ensemble, Another Night on Earth, created virtually with colleagues from three continents during the lock-down period and featuring works ranging from the Renaissance to Rock and Roll.  In addition to Robertson, the ensemble includes star artists transcending musical worlds: Joe Gore, Daniele Gottardo, Jiji, Steven Mackey, Gretchen Menn, James Moore and Heiko Ossig.
In May and June 2024, David Robertson will conduct two works by his close musical compatriot, John Adams: the oratorio El Niño, with the Houston Symphony, and Doctor Atomic Symphony with the Minnesota Orchestra.  The 2023-24 season will also include a visit to Florida's Naples Philharmonic at Artis-Naples to conduct works by Schoenberg and Gershwin, with Orli Shaham.
2023-24 is David Robertson's sixth academic year as Director of Conducting Studies, Distinguished Visiting Faculty of The Juilliard School in New York, and he continues his role as a member of the Tianjin Juilliard Advisory Council, an international body created to guide Juilliard's young Chinese campus.  He will conduct the Juilliard Orchestra at Carnegie Hall in April.
David Robertson completed his transformative 13-year tenure as Music Director of the St. Louis Symphony Orchestra in 2018, where he solidified the orchestra's status as one of the nation's most enduring and innovative, and reinvigorated its American and European presence through regular touring programs.  For the SLSO, he created dynamic relationships with a wide spectrum of artists, and garnered a 2014 Grammy Award, Best Orchestral Performance, for the Nonesuch release of John Adams' City Noir.  Among many other recordings, the historic Robertson-SLSO association, included the 2019 Blue Engine Records release of Wynton Marsalis' Swing Symphony, with the Jazz at Lincoln Center Orchestra.  In addition to Sydney and St. Louis, Robertson has served in artistic leadership positions at musical institutions including the Orchestre National de Lyon, and, as a protégé of Pierre Boulez, the Ensemble InterContemporain, which he led on an extensive North American tour.  At the BBC Symphony Orchestra, he served as Principal Guest Conductor.  Robertson has served as a Perspectives Artist at Carnegie Hall, where he has conducted, among others, The Met Orchestra, Lucerne Festival Orchestra, St. Louis Symphony Orchestra, and The Juilliard Orchestra.  He appears regularly in Europe with the Royal Concertgebouw Orchestra, the Czech Philharmonic, the Symphonieorchester des Bayerischen Rundfunk, the Staatskapelle Dresden, and at the Berlin Festival, the Edinburgh Festival, the BBC Proms, and the Musica Viva Festival in Munich, among others.  Beyond his longstanding relationship with the New York Philharmonic, Robertson conducts numerous North American Orchestras, including those of Boston, Philadelphia, Montréal, Dallas, Houston, Los Angeles, and more.  Robertson continues his relationship with the New Japan Philharmonic and the China NCPA Orchestra.
Building upon his prolific association with The Metropolitan Opera, Robertson conducted the encore performances in In Fall 2021 of James Robinson's lauded 2019 production of The Gershwins' Porgy and Bess, which featured the returns of Eric Owens and Angel Blue in the lead roles.  Robertson's musical leadership of the 2019-20 season Porgy and Bess production premiere was honored at the 63rd Grammy Awards, in March 2021, as Best Opera Recording.  Preceding this rich success, Robertson's deep relationship with the Met Opera includes the premiere of Phelim McDermott's celebrated 2018 production of Così fan tutte, set in 1950s Coney Island, and, since his Met debut in 1996 with The Makropulos Case, he has conducted a breathtaking range of Met projects, including the Met premiere of John Adams' The Death of Klinghoffer (2014); the 2016 revival of Janáček's Jenůfa, then its first Met performances in nearly a decade; the premiere production of Nico Muhly's Two Boys (2013); and many favorites, from Mozart's Le Nozze di Figaro to Britten's Billy Budd.  Robertson conducts projects at the world's most prestigious opera houses, including La Scala, Théâtre du Châtelet, Bayerische Staatsoper (orchestra), the San Francisco Opera, and the Santa Fe Opera.  In January 2022, David Robertson made his debut with the Rome Opera conducting Janáček's Káťa Kabanová to great critical acclaim.
Robertson is the recipient of numerous musical and artistic awards, and in 2010 was made a Chevalier de l'Ordre des Arts et des Lettres by the Government of France.  In addition to his pedagogical Juilliard roles, he is devoted to supporting young musicians and has worked with students at the festivals of Aspen, Tanglewood, Lucerne, at the Paris Conservatoire, Music Academy of the West, and the National Orchestra Institute.  In 2014, he led the Coast to Coast US tour of Carnegie Hall's National Youth Orchestra of the USA.
Born in Santa Monica, California, David Robertson was educated at London's Royal Academy of Music, where he studied horn and composition before turning to orchestral conducting.  He is married to pianist Orli Shaham, and lives in New York.
SEPTEMBER 2023