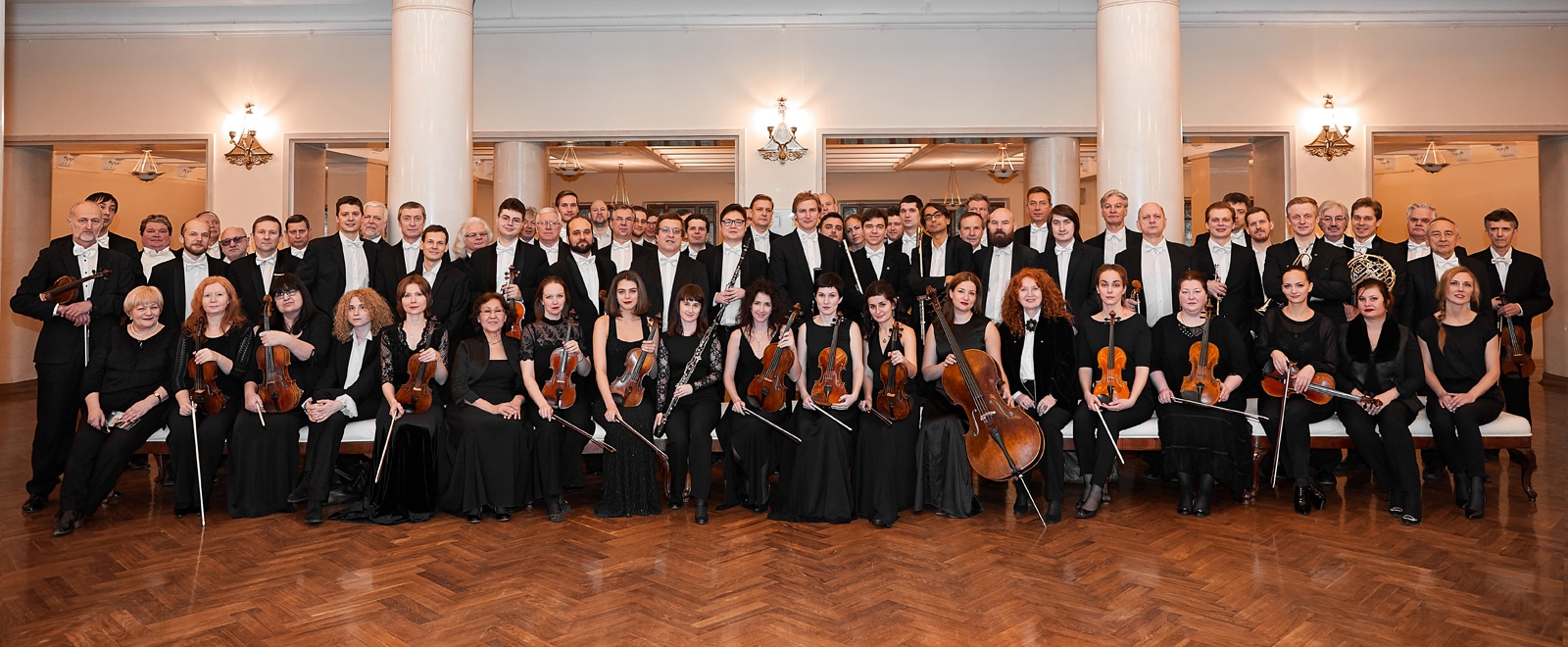 "…one of Russia's greatest orchestras. The Russian National Orchestra, founded in 1990, has quickly distinguished itself from the abundance of other Russian orchestras to take a place among the world's leading symphonic ensembles…In this work [Symphonic Dances], all of the orchestra's virtues came into play. The strings…played with outstanding precision and unity. Winds brought a warmth of tone and phrasing to their music, with effortless virtuosity in the wild riffs that flew around the string melodies. Brass played with rounded, gleaming tones, blending into the ensemble to an unusual degree, without a trace of the raucousness that can sometime attend even top sections."
South Florida Classical Review
"…the RNO sounded a well-oiled machine, with a perfect balance between strings and winds, responding eagerly and accurately to Karabits changes of direction."
Bachtrack
"The orchestra members showed themselves to be virtuosos, every one of them, in a truly memorable performance."
Palm Beach Daily News
"The [Symphonic] Dances were correct, stylish, and pleasurable…The unison playing in the strings was exemplary, with those strings singing as one. Plus, the RNO has some great principals, in the woodwind section, not least. The second dance, the waltz, had its desired spookiness. In all three, Kirill Karabits showed himself a fine leader."
The New Criterion
"The Russian pianist-conductor Mikhail Pletnev once said that "intensity" was the most basic characteristic of the Russian sound, and that quality was fully on display at the Valley Performing Arts Center in Northridge on Friday night as he led the Russian National Orchestra in a program of works by Shostakovich, Tchaikovsky and Stravinsky…After intermission, Pletnev summoned colorful intensity from the ensemble in a carefully shaped reading of Stravinsky's "The Firebird," contoured to highlight the ensemble's many virtuosos. Individual sonorities from flute, oboe and horns bloomed. Pletnev and the RNO performed the 1945 version, which benefits from a generous selection of music from the composer's ballet score perfectly paced for a concert audience."
Los Angeles Times
"The conductor, Mikhail Pletnev, founder of the orchestra more than 25 years ago, seems telepathically connected to his players. No need to wave his arms, except for the audience, now and then. Simply staring or flicking a finger at the right time here and there seems to work wonders with the crew. The RNO is so well-rehearsed, the rest becomes history."
San Francisco Classical Voice
The Russian National Orchestra was founded in 1990 by pianist and conductor Mikhail Pletnev. Of its debut at the BBC Proms in London, the Evening Standard wrote, "They played with such captivating beauty that the audience gave an involuntary sigh of pleasure." The RNO has been described as "a living symbol of the best in Russian art" (Miami Herald) and "as close to perfect as one could hope for" (Trinity Mirror).
Maintaining an active international schedule, the RNO appears in the music capitals of Europe, Asia and the Americas, is a frequent guest at festivals such as Edinburgh, the BBC Proms and Festival Napa Valley, and presents the RNO Grand Festival each September to open the Moscow season.
RNO concerts are often aired on National Public Radio, the European Broadcasting Union, and Russia's Kultura channel. Their discography, launched with a highly praised 1991 recording of Tchaikovsky's Pathétique, now numbers more than 80 critically acclaimed recordings. Notable releases include the complete Beethoven symphonies and piano concertos on Deutsche Grammophon, Tchaikovsky's six symphonies for Pentatone, and the RNO Shostakovich project, also on Pentatone, cited as "the most exciting cycle of the Shostakovich symphonies to be put down on disc, and easily the best recorded" (SACD.net).
Their recording of Prokofiev's Peter and the Wolf and Beintus' Wolf Tracks, conducted by Kent Nagano and narrated by Sophia Loren, Bill Clinton and Mikhail Gorbachev, received a 2004 Grammy Award, making the RNO the first Russian orchestra to win the recording industry's highest honor. Their recording of Shostakovich Symphony No. 7, conducted by Paavo Järvi, was awarded the Diapason d'Or de l'Année 2015 as the year's best symphonic album, and was nominated for a 2016 Grammy Award.
The RNO is unique among the principal Russian ensembles as a private institution funded with the support of individuals, corporations and foundations in Russia and throughout the world.