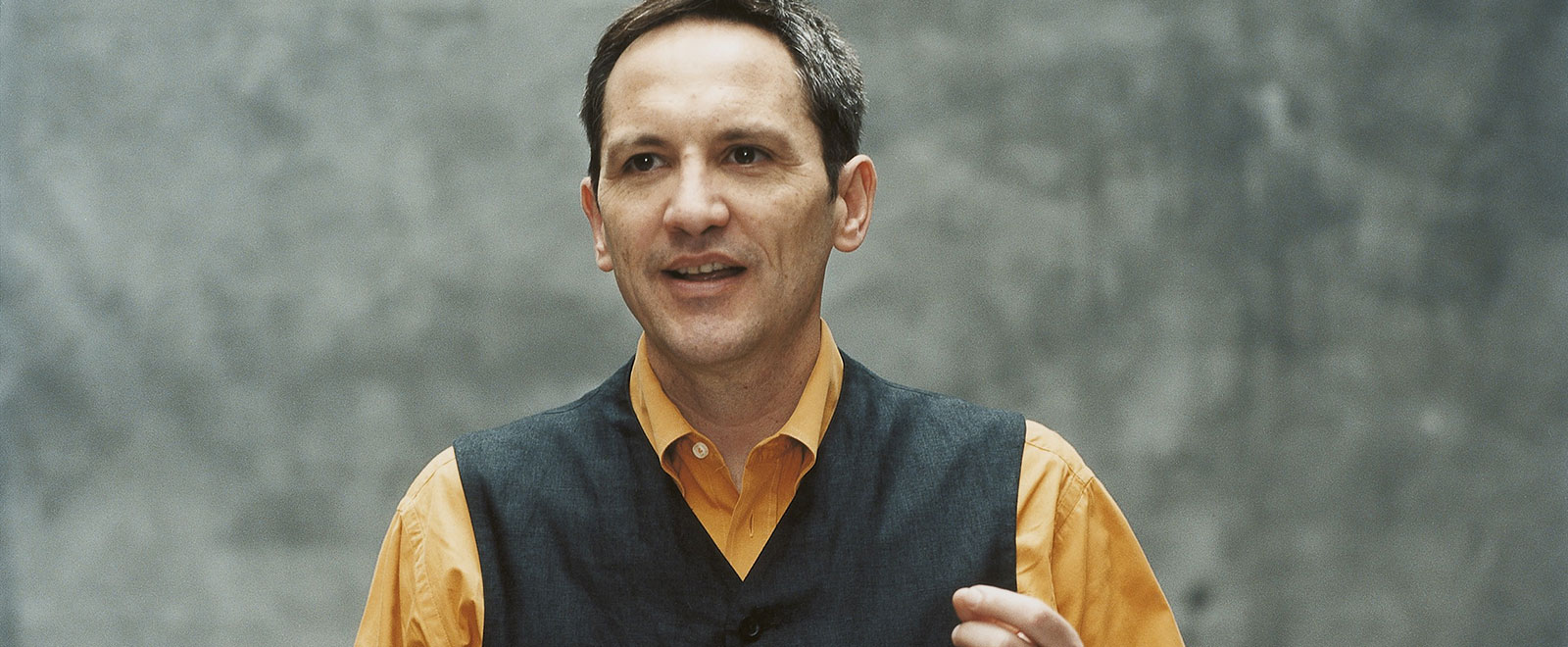 Osvaldo Golijov grew up in an Eastern European Jewish household in La Plata, Argentina. Born to a piano teacher mother and physician father, Golijov was raised surrounded by classical chamber music, Jewish liturgical and klezmer music, and the new tango of Astor Piazzolla. After studying piano at the local conservatory and composition with Gerardo Gandini, he moved to Israel in 1983, where he studied with Mark Kopytman at the Jerusalem Rubin Academy and immersed himself in the colliding musical traditions of that city. Upon moving to the United States in 1986, Golijov earned his Ph.D. at the University of Pennsylvania, where he studied with George Crumb, and was a fellow at Tanglewood, studying with Oliver Knussen.
In the early '90s, Golijov began to work closely with two string quartets — the St. Lawrence and the Kronos. Both ensembles were the earliest to project Golijov's volatile and category-defying style in its true, full form. In 2002, EMI released Yiddishbbuk, a Grammy-nominated CD of Golijov's chamber music, celebrating ten years of collaboration with the St. Lawrence String Quartet, featuring clarinetist Todd Palmer. The St. Lawrence String Quartet has continued their collaboration into the new decade, premiering the composer's Qohelet in 2011. The Kronos Quartet released three recordings featuring their collaborations with Golijov: The Dreams and Prayers of Isaac the Blind, featuring David Krakauer, as well as Caravan and Nuevo. Kronos also expanded Golijov's musical family through collaborations with artists such as the Romanian Gypsy band Taraf de Haidouks, the Mexican Rock group Café Tacuba, tabla virtuoso Zakir Hussain, and legendary Argentine composer, guitarist and producer Gustavo Santaolalla, with whom Golijov continues to collaborate. For over a decade, Golijov has been inspired by the voice of Dawn Upshaw, for whom he composed several works, including the Three Songs for Soprano and Orchestra, the opera Ainadamar, the cycles Ayre and She Was Here, and a number of arrangements.
In 2000, the premiere of Golijov's La Pasión según San Marcos (St. Mark Passion) took the music world by storm. Commissioned by Helmuth Rilling for the European Music Festival in Stuttgart, to commemorate the 250th anniversary of J.S. Bach's death, the piece featured the Schola Cantorum de Venezuela with the Orquesta La Pasión (specially assembled for this work by Golijov together with percussionist Mikael Ringquist), all conducted by Maria Guinand. The CD of the premiere of this work, on the Hänssler Classic label, received Grammy and Latin Grammy nominations in 2002. La Pasión has since toured the world, and a recording on CD and DVD of the work was released on Deutsche Grammophon in 2010. For the premiere of Ayre, Golijov founded another virtuoso ensemble: The Andalucian Dogs. Together with Dawn Upshaw, they premiered the piece at Carnegie's Zankel Hall and recorded it on a Grammy-nominated CD for Deutsche Grammophon in 2005. In 2006, Deutsche Grammophon released the recording of the opera Ainadamar, featuring Dawn Upshaw, Kelley O'Connor and Jessica Rivera singing the principal roles, and the Atlanta Symphony Chorus and Orchestra, conducted by Robert Spano—an artist and friend who has worked closely with Golijov for over a decade and who conducted the world premiere of the opera, as well as the American premiere of the La Pasión. The record earned two Grammy awards: for best opera recording, and best contemporary composition.
Golijov has received numerous commissions from major ensembles and institutions in the US and Europe. He is the recipient of a MacArthur Fellowship and the Vilcek Prize among other awards. In addition to the artists mentioned above, he collaborates closely with conductor Miguel Harth-Bedoya; vocalists Luciana Souza and Biella da Costa; cellists Yo-Yo Ma, Alisa Weilerstein, Maya Beiser and Matt Haimovitz; the Kamancheh virtuoso Kayhan Kalhor and percussionist Jamey Haddad; also with multitalented musicians such as Michael Ward-Bergeman, Gonzalo Grau, Ljova, Jeremy Flower and Cristina Pato; ensembles including the Atlanta Symphony, Los Angeles Philharmonic, Boston Symphony, Chicago Symphony, Silk Road Ensemble, and eighth blackbird; the artist Gronk, playwright David Henry Hwang, and directors Francis Ford Coppola and Peter Sellars. The latter staged sold-out and critically acclaimed runs of Ainadamar at the Santa Fe Opera and Lincoln Center.
In January and February 2006, Lincoln Center presented a sold-out festival called "The Passion of Osvaldo Golijov," featuring multiple performances of his major works, his chamber music, and late night programs of music dear to him. In 2007, he was named the first Composer-in-Residence at the Mostly Mozart Festival and has held similar positions at the Chicago Symphony Orchestra, Spoleto USA Festival, the Los Angeles Philharmonic's Music Alive series, Marlboro Music, Ravinia, Ojai, Trondheim, and Holland festivals. Golijov held the position of Richard and Barbara Debs Composer's Chair at Carnegie Hall for the 2012–13 season. Golijov is Loyola Professor of Music at College of the Holy Cross in Worcester, MA, where he has taught since 1991. He also taught for several years at Tanglewood, has led workshops at Carnegie Hall with Dawn Upshaw, and teaches in the summers at the Sundance Composers Lab.
Golijov has scored the soundtracks for Francis Ford Coppola's Youth Without Youth and Tetro (both released by Deutsche Grammophon), as well as Twixt. Other recent works include Azul, a cello concerto for Yo-Yo Ma and the Boston Symphony; Rose of the Winds, premiered by the Silk Road Ensemble and the Chicago Symphony under Miguel Harth-Bedoya; She Was Here, a work based on Schubert lieder premiered by Dawn Upshaw and the Saint Paul Chamber Orchestra; Sidereus, a piece commissioned by a consortium of 35 American orchestras in honor of Henry Fogel; and Sign of the Leviathan, written for hornist James Sommerville and the Tanglewood Music Festival.
His works are published by Boosey & Hawkes. In addition to Ainadamar, Ayre, Oceana, Youth Without Youth, Tetro, and the CD and DVD of La Pasión según San Marcos, Deutsche Grammophon will continue to release recordings of new works. Other compositions have been released on Nonesuch, Sony Classical, Hänssler Classics, Naxos, Koch, Harmonia Mundi, and EMI.
The preceding biography may be shortened to accommodate the needs of the user. However, it is a requirement to include the professorship at Holy Cross for all publications of an abridged version. Thank you.
This biography can be reproduced free of charge in concert programs with the following credit: Reprinted by kind permission of Boosey & Hawkes.
MARCH 2019