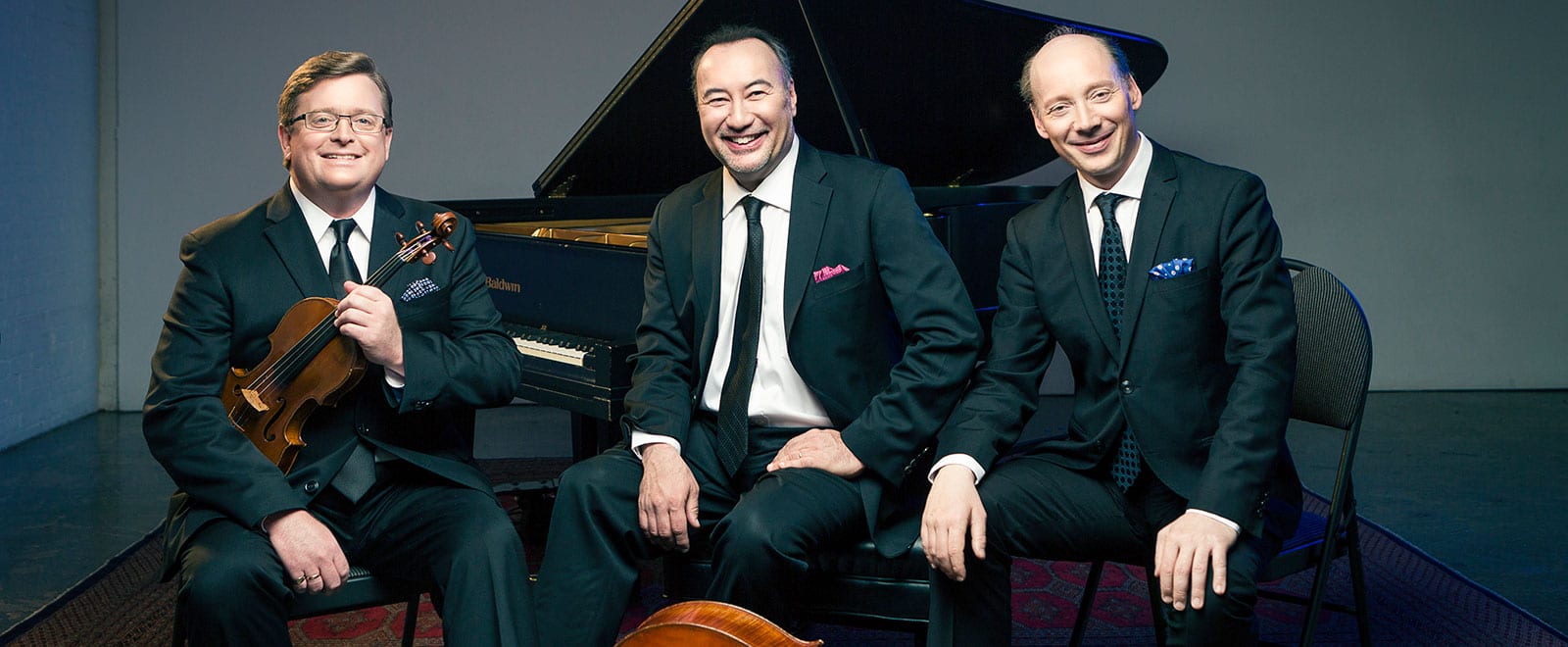 "The Montrose has many engagements in upcoming seasons, and on the evidence of Friday's performance they are poised to become one of the top piano trios in the world"
The Washington Post
"Violinist Martin Beaver and cellist Clive Greensmith, who were members of the famed Tokyo String Quartet before it disbanded, and pianist Jon Kimura Parker played with virtuosity and sensitivity. Parker, in particular, had bravura to spare in the score's most treacherous passages…At the top of the program, the Montrose ­players made clear just how much Beethoven was determined to catch attention with his Op. 1, No. 1. The E-flat Piano Trio abounds in clever, even witty ideas, along with passages of remarkable eloquence. All of those characteristics were easy to savor in this excellent ensemble's vibrant, close-knit, performance."
Baltimore Sun
"Brahms works his players hard, with big, often widely-spaced chords from the ­piano, and passionate statements from the strings. The Montrose Trio rose to the ­occasion, collectively producing a big sound that suggested a much larger ensemble. The ­challenges of the work are great, but the players met them with aplomb, and not a little sweat equity as well."
The Cleveland Plain Dealer
"Responding to the standing ovation, The Montrose Trio gave a heart-stomping, ­scintillating encore, the scherzo from the Shostakovich Trio. Concert goers had to catch their breath on the way to the exit."
Northwest Reverb
"After the intermission, it was time for the piece Kimura Parker referred to as one of the great chamber music works of all time, Brahms' trio…The Montrose Trio did it proud, supplying every ounce of artistry in delivering an impressive performance that would have made the master happy. "
The Buffalo News
Formed in 2013, the Montrose Trio is a collaboration stemming from a long and fruitful relationship between pianist Jon Kimura Parker and the Tokyo String Quartet. Mr. Parker was the quartet's final guest pianist, and a backstage conversation with first violinist Martin Beaver and cellist Clive Greensmith led to the Montrose Trio's creation.
Named after Chateau Montrose, a storied Bordeaux wine long favored after concerts, with a nod to the Montrose Arts District of Houston and the street in Winnipeg where Mr. Beaver was raised, the Montrose Trio has quickly established a reputation for performances of the highest distinction. In 2015 the Washington Post raved about their "absolutely top-notch music-making, as fine as one could ever expect to hear…they are poised to become one of the top piano trios in the world."
The Montrose Trio gave their debut performance for the Chamber Music Society of Detroit, with subsequent performances at Wolftrap, in Montreal, and at the Santa Fe Chamber Music Festival. They have continued to perform on major series in cities including New York, Baltimore, Buffalo, Chicago, Cleveland, Detroit, Houston, Indianapolis, Jacksonville, La Jolla, Menlo, Philadelphia, Phoenix, Portland, Seattle, Vancouver, Joplin, Monterey, Tulsa, Rockport, at the Hong Kong Chamber Music Festival, and throughout Italy.
Pianist Jon Kimura Parker performs with major North American orchestras on a regular basis, including recent concerto performances with the Philadelphia Orchestra, Chicago Symphony, Seattle Symphony, Toronto Symphony, Kansas City Symphony, and many others. He also appears in Off the Score, an experimental group with legendary Police drummer Stewart Copeland. He was recently named Creative Partner for the Minnesota Orchestra's Summer at Orchestra Hall, serves as the Artistic Director for the Honens International Piano Competition and Artistic Advisor for the Orcas Island Chamber Music Festival, and is on the faculty of the Shepherd School of Music at Rice University.
Violinist Martin Beaver has appeared as soloist with the orchestras of San Francisco, Indianapolis, Montreal, Toronto, and in Belgium and Portugal. A top prizewinner at the international violin competitions of Indianapolis and Montreal, he studied with Danchenko, Gingold and Szeryng. He is a regular guest at prominent festivals including the Santa Fe Chamber Music Festival, Chamber Music Northwest, La Jolla SummerFest, and the Edinburgh Festival. Mr. Beaver was a founding member of the Toronto String Quartet and Triskelion, and is currently on faculty at the Colburn School in LA.
Cellist Clive Greensmith has performed as soloist with the London Symphony, the Royal Philharmonic, the English Chamber Orchestra, the Mostly Mozart Orchestra, the Seoul Philharmonic, and the RAI orchestra in Rome. He has worked with distinguished musicians including András Schiff, Claude Frank and Steven Isserlis, and won prizes in the Premio Stradivari held in Cremona, Italy. Mr. Greensmith is the director of string chamber music at the Accademia Chigiana International Festival and Summer Academy in Italy, Artistic Director of the Nevada Chamber Music Festival, and is currently on faculty at the Colburn School in LA.