Watch Opus 3 Artists on The Violin Channel's Vanguard Concerts Series
Happening this month, presenters will have a chance to watch free performances by some of Opus 3's renowned and electrifying young virtuosos on The Violin Channel's Vanguard Concerts Series.
Upcoming concerts include the Viano String Quartet on November 3, Simone Porter & Blake Pouliot on November 10, and the newest addition to our roster Janice Carissa performing with Vadim Gluzman on November 17. In case you missed it, you can watch Alexi Kenney's October performance now on YouTube.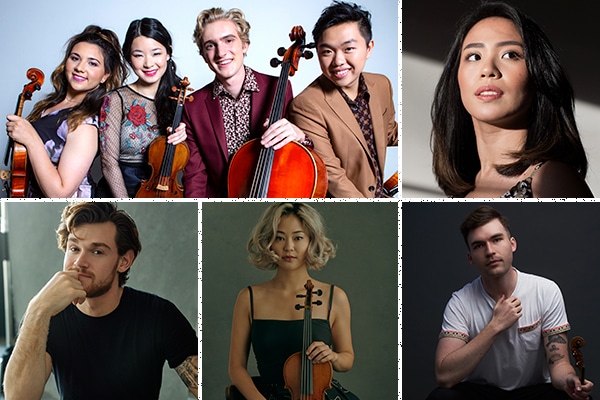 These full concerts are a wonderful way to get to know these exceptional artists in performance from the comfort of home. Co-produced by The Violin Channel Founder, Geoffrey John Davies, the Alphadyne Foundation, The Kaufman Music Center, and Charles Letourneau, each concert features a custom look and feel by creative director, David Katzive. "For the second Vanguard Concerts series, we encouraged musicians not to perform standard repertoire," Geoffrey John Davies said. "We asked them to present works, or fragments of works, that they're really passionate about and that truly represent them as artists."
Each episode of Vanguard Concerts was shot in 4K with seven cameras at the Kaufman Music Center's Merkin Hall, in New York City. The artists performed in front of a 41-foot-long and 11.5-foot-high background curved LED wall that incorporated gently moving colors, patterns, or scenic views customized for each performer. The result is a musically and visually stunning product that redefines the virtual concert experience for audiences worldwide.
Viano String Quartet with Rodolfo Leone, Piano
November 3, 2022 | 5PM EST
PROGRAM
Dohnányi  Piano Quintet (1st Mvt)
Beethoven String Quartet Op. 59 No. 3 (4th Mvt)
Montgomery Strum
Prokofiev String Quartet No. 2 in F Major
---
Simone Porter, Violin & Blake Pouliot, Violin with Hsin-I Huang, Piano
November 10, 2022 | 5PM EST
PROGRAM
Andrew Norman Sabina for Solo Violin (Porter)
Gershwin 3 Preludes arr. Jascha Heifitz (Pouliot)
Miklos Rosza Together Sonata for 2 Violins
Bloch Nigun (Porter)
Korngold Much Ado About Nothing Suite, Mvmts 3&4 (Pouliot)
---
Alexi Kenney
Watch now
PROGRAM
Bach Allemande / Wianck Allemande
Colombi Scordatura
Wiancko Nocturne
Muhly A Long Line
Biber Passacaglia
---
Janice Carissa & Vadim Gluzman
November 17, 2022 | 5PM EST
PROGRAM
Beethoven Violin Sonata No. 7 in C minor
Auerbac  T'filah
Bartók Romanian Dances