Trumpet player Joe Burgstaller returns to Canadian Brass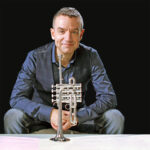 Canadian Brass, Opus 3 Artists, and MünchenMusik are thrilled to announce the return of trumpet player Joe Burgstaller. Joe is resuming his role in the Brass following Caleb Hudson stepping back from the group following the recent birth of his third child and his new role as Associate Professor of Trumpet at the University of Texas at Austin.
"Joe has been an important contributor to the Canadian Brass, both in his full-time performing years with us as well as during his time away, from his fantastic arrangements to his involvement in recordings, including our latest, Juno-nominated release Canadiana, and the forthcoming Andemica with Emmy-award winning writer Dave Pierce. We are very excited to be welcoming Joe back to continue the journey," said Chuck Daellenbach, founding member of Canadian Brass.
Concurrent to position with the Brass, Joe will continue as Professor of Trumpet at Arizona State University. Dr. Heather Landes, Director of ASU's School of Music, Dance and Theatre, states, "We are thrilled for Joe and for ASU as he returns to one of the most innovative and influential groups in music history! We look forward to future integrative collaborations between the ASU community and the 'Brass'."
With a formidable online presence, Joe has amassed a substantial following. His rendition of "La Virgen de la Macarena" has garnered 4.8 million views on YouTube, establishing it as the most viewed version worldwide. Additionally, his popular "Trumpet Warmup Show" is live streamed weekly on Facebook, attracting over 25,000 viewers from 30+ countries. The show, returning from hiatus this Fall, will showcase Joe's pedagogy along with informative segments by his students.
In Joe's words, "It's a dream come true… again! As someone who idolized Canadian Brass growing up and then later joined the group, I consider myself a product of the Brass' influence and proudly carry on that tradition in everything I do. I am excited about re-connecting with our audiences worldwide, inspiring the next generations, and co-creating exciting projects with my amazing colleagues. Most of all, with many smiles!"