Mason Bates Premieres "Philharmonia Fantastique: The Making of the Orchestra"
"A truly magnificent achievement…In the art of marrying music with animation, Philharmonia Fantastique is the biggest step forward since Fantasia itself." – John Williams
Philharmonia Fantastique: The Making of the Orchestra is a 25-minute multi-media concerto from Mason Bates, composer of the Grammy Award-winning opera The (R)evolution of Steve Jobs, in collaboration with Oscar-winning director and sound designer Gary Rydstrom, and animator Jim Capobianco. The animated film flies through the instruments of the orchestra to explore the fundamental connections between music, sound, performance, creativity and technology.
Experience Philharmonia Fantastique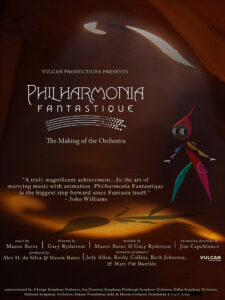 Philharmonia Fantastique portrays the four families of the orchestra, each with their own unique sound worlds and musical motifs: the slinky, sophisticated noir-jazz of the woodwinds; the lush romanticism of the strings; the aggressive techno-fanfares of the brass; and the percussion section "drum circle" in all its versatility. Ultimately the work's message is one of unity: the diverse instruments of the orchestra are most powerful when working together as one giant instrument.
Guided by a magical Sprite, the film shows violin strings vibrate, brass valves slice air, and drum heads resonate. Imaginatively blending traditional and modern animation styles, it is a kinetic and compelling guide to the orchestra that engagingly illustrates the intricacies of how instruments work individually and collectively to produce such a huge range of sound.
Nearly every aspect of the production mirrors the central thesis that the orchestra is the ideal marriage of tradition and innovation. The title itself is a nod to Hector Berlioz's Symphonie Fantastique (a striking dramatic storm with innovations in orchestration), but the music of Philharmonia Fantastique ventures beyond the bounds of classical to bring in elements of jazz and techno. The combination of music and animation echoes classics like Fantasia or Peter and the Wolf, but with a fresh approach and a new journey led by the Sprite.
The film features a unique hybrid of animation and live action filming. Guided by Jim Capobianco, the animation team created a hand-drawn, 2D style reminiscent of 1950's French films. To look inside instruments, the team used high-definition special effects cameras, including probe lenses, to peer inside a violin, flute, and up close to brass valves. The film also features sound design built from the key clicks of woodwinds, taps on the body of string instruments, and vintage analogue synthesizers.