NY Premiere of Jennifer Koh & Davóne Tines' 'Everything Rises'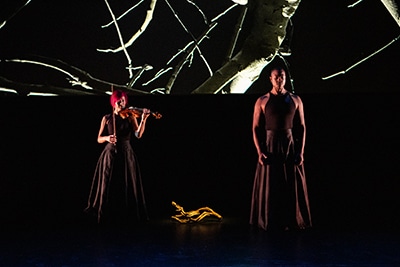 The New York Premiere of Everything Rises from Jennifer Koh and Davóne Tines at BAM is a New York Times Critic's Pick and received a great review from The Wall Street Journal.
"Everything Rises" is a timely collaboration, created by the Korean American violinist Jennifer Koh and Tines, that interrogates what it means to be a classical musician of color — to have chosen to make a creative life and professional career in a medium and a milieu that are overwhelmingly white, and to have tucked away fundamental elements of their identities in the process. The result of those inquiries is a compact, affecting and meditative multimedia work made entirely by people of color, including the composer and librettist Ken Ueno, the director Alexander Gedeon and the dramaturg Kee-Yoon Nahm.
…
There are also moments of melancholic tenderness in "Everything Rises," such as in the lullaby-like "Fluttering Heart," and testaments to enduring resilience. Over the course of the show, Tines and Koh hold each other up literally and figuratively: hearing, acknowledging and amplifying each other's stories.
Ueno's score nods to 19th-century Western idioms, traditional Korean music and shimmering contemporary electronica. The effect is not a pastiche, but a sonic code switching. He also allows Tines and Koh — exemplary technicians and artists of profound intensity — to explore their full tonal and textural ranges. Moments of racial violence are evoked by Koh playing growling, guttural scratch tones, often on her open G string, while Tines cycles from his rich basso profundo to an ethereal falsetto."
The New York Times
"…tightly structured and thoughtfully produced…The most moving aspect of the piece is the potent musical connection of these two superb performers: It gives them the strength to express their buried histories and traumas, using their artistic virtuosity, for an audience that is accustomed to seeing them in a different guise…the explicitly personal nature of "Everything Rises" demands that we see them unmasked and welcome their full experience as part of the canon."
Wall Street Journal