For 50 Years, Emanuel Ax Has Made Music Sound Simply Right
Understated and unarrogant, Ax can be taken for granted. But he has long been, and continues to be, one of the finest American pianists.
By David Allen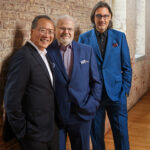 "A young pianist with the hard-to-forget name of Emanuel Ax has one thing going for him before he plays a note," the New York Times critic Donal Henahan wrote in 1973. "But brand identification, as advertising men term it, helps in the long run only if the product delivers, and Mr. Ax's recital at Alice Tully Hall on Monday night fortunately carried the stamp of quality."
The occasion was Ax's New York debut, and it was the opening flourish of a banner few years. At the Marlboro Festival in Vermont that summer, Ax gave his first concert with Yo-Yo Ma, the cellist he has spent his career playing and quipping with, the friend who calls him "the big brother I never had." Soon, there was a date on the Young Concert Artists series, a Carnegie Hall appearance, a victory in the Arthur Rubinstein International Piano Master Competition and, in February 1975, an eloquent first recording.
That stamp of quality had become indelible, and it has since endured. Of course, Ax, 74, protests that the half-century career he has enjoyed following that inaugural hometown bow has been largely the product of good fortune. Never mind his Avery Fisher Prize or his 19 Grammy nominations (and eight wins), his long list of premieres or his generosity and ease as a chamber music partner to Ma and other eager collaborators. Even now, Ax will only reluctantly allow that he has much talent at all.
"I just started, and I stuck to it; I liked it," Ax said of playing the piano during a recent interview at Tanglewood, where he was joining the Boston Symphony Orchestra for a Brahms concerto as he has many, many times before. "I think the sheer enjoyment of it is a talent in itself."
That's Manny, as everyone calls him. He has said things like this forever, sought to share the spotlight or point it wholly elsewhere. And his modesty, which he wraps in a jesting smile and a famous bonhomie, is at the heart of his pianism and personality alike.
"Whatever his musical decisions are, they are never ones that would draw attention to himself," said the conductor Esa-Pekka Salonen, who has known Ax for four decades and will premiere a piano concerto by Anders Hillborg with him and the San Francisco Symphony in October. "So in the very, very best sense of the word, he kind of eradicates himself out of the picture."
Might that mean, though, that Ax is taken for granted? After all, how many artists have performed at his level for so long? How many have treated us so reliably to such taste and good sense as he? How many have had his ability, not unlike that of his late associate Bernard Haitink, to make music sound so simply right?
Ax ranks among the very finest of American pianists. Yet he would never admit it. As Ma put it, "He doesn't go around saying, 'And I did this.'" In fact, Ma recalled, when Ax told him that this article was happening, he said, "I don't know why they're doing this."